---
The Toyota Camry has been reinvigorated and refined, and is now more pleasing to the eyes and more enjoyable to drive.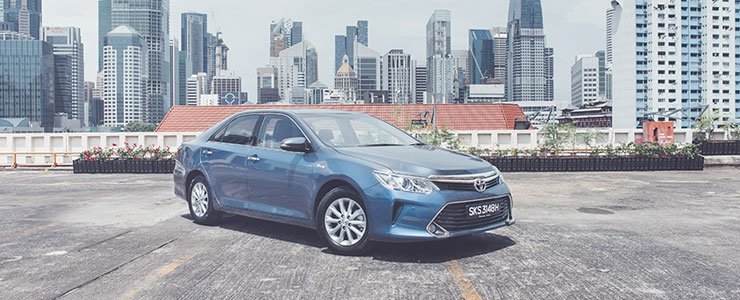 The Toyota Camry has always been a target board for car enthusiasts like you and me to criticise, even if the car has been known for its reliability and high resale value in Singapore. But with the latest and seventh iteration model, it seems the car is arguably ready to rebut our condemnations.
Currently at $159,888 (as of 21
st
May 2015), the Camry you see here could easily be mistaken as a brand new model, due to drastic changes inside and out, but it's merely a facelift. Which brings us to the next most logical question: How will the car be like when it's time for a spanking new model?
Up close and Personal
But it doesn't mean the car is trying to look like something it isn't. It is bold, thanks to its gaping grille, sleek head lights and slashes adorning the lower front corners but it doesn't come across as overly brash. Perhaps 'prominent' and 'premium' would be apt words to describe this handsome sedan. Edges and corners have been smoothened while taillights get a new design that integrate well with the chrome bar that runs across the boot.
Measuring 4,850mm long, 1,825mm wide and 1,480mm tall, the Camry is relatively sizeable but it doesn't have a road presence like, say, a
Honda Accord
or a
Mazda6 Sedan
. But it's not all bad, we think, because it's exactly suited for buyers who are humble by nature and, more specifically, for those who can appreciate that less is more.
What's also humble but no less plush is the cabin. Overall cabin has been upgraded, with more upmarket materials, nicer detailing and better fit and finish. As a result, it feels very comfortable to be inside. Buttons and controls are also ergonomically positioned, straightforward and intuitive.
Needless to say, space is the royal order for the day, with a generous helping of head and legroom for all five occupants to comfortably take their positions on board. It's nothing radical when it comes to roominess, considering the wheelbase of 2,775mm is similar and the height of the car has increased very slightly compared to the
previous model
.
This model is no longer being sold by local distributors
Engine Type
:
4-cylinder in-line 16-valve DOHC with VVT-iw (intake)
Horsepower
:
123kW (165 bhp) / 6500 rpm
Torque
:
199 Nm / 4600 rpm
Transmission
:
6-speed (A) Super ECT
Acceleration (0-100 km/h)
:
10.8sec
Fuel consumption
:
14km/L