The new Volkswagen Caddy arrives in Singapore for the first time, as a nicely furnished, seven-seating multi-purpose family car.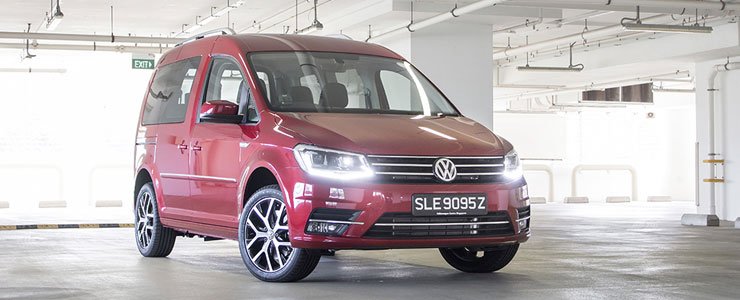 Ever since I was a kid, I've always had a strange liking for compact vans like the Volkswagen Caddy, the
Fiat Doblo
and the
Renault Kangoo
. Because they had the front end of a car and the cargo capacity of a van, I imagined them to be the perfect vehicle - I would sit in my uncles' and pretend I was a super sleuth, with the rear cargo space as my mobile spy lair.
My mum even used to term them as
roti chias
or 'bread cars' due to their resemblance to loaves of bread.
As I got older, my love for such versatile vehicles lived on. Only this time, in place of the rear cargo area as my detective's workspace, I imaged a fridge, Playstation and a couch - wouldn't that be the perfect roving man-cave?
But enough of what I'd like to do in one of these things, let's talk about why Volkswagen Singapore has brought in the new Caddy as a Cat A, seven-seating multi-purpose car.
Extreme makeover
Configuring it as a car instead of a van is a long-popular choice in Europe and by doing so in Singapore, the German marque has diversified its people mover lineup, starting from the five-seater
Sportsvan
through to the similarly seven-seating
Touran
and
Sharan
.
The ultimatum, then, is to convince car buyers they aren't buying a van but a proper family car - a nicely furnished one in fact. But judging from what we were staring at, that won't be much of a problem.
Compared to before, the car is nip and tucked to become a whole lot sharper. The front end of the car is redesigned for more presence and dynamism, and is very much in line - in terms of facial features - to the rest of the company's models.
It gets even more convincing inside.
Quality of the cabin materials is higher and more expensive than you'd expect. Typical high-level German finish is furnished, inclusive of an intuitive 6.33-inch infotainment system, ergonomical multi-function controls and seven comfy seats, encased in alcantara.
This model is no longer being sold by local distributors
Engine Type
:
4-cylinder in-line 16-valve TSI Turbocharged
Horsepower
:
92kW (123 bhp) / 6000 rpm
Torque
:
220 Nm / 3500 rpm
Transmission
:
7-speed (A) DSG
Acceleration (0-100 km/h)
:
10.9sec
Fuel consumption
:
17.2 km/L