The renamed and revised Mercedes-Benz SLC is a handsomely-designed and easy-to-drive cruiser.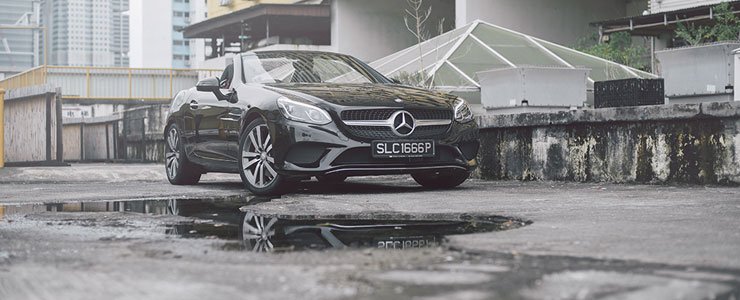 The sensous roadster pictured here, now badged as the SLC was formerly known as the
Mercedes-Benz SLK
. Back in 1996 when it was first launched, the SLK was somewhat a revelation for the German marque. Not only was the once drab Mercedes introducing a lithe two-seater, but it also armed the car with a foldable hard-top, instead of a fabric soft-top.
What's more, the car prioritised comfort, not performance; and the original SLK came only with an automatic gearbox. To many non-purists, that's a great thing.
Fast forward to today and its replacement, the SLC, promises to be more fuel economical and nicer to drive. Can it beat the likes of the
Audi TT Roadster
and
Porsche 718 Boxster
?
Honing the roadster's sporty design

Alongside its new name is a new face. While the general bodystyle of the roadster remains, the car now gets a sharper face comprising large, striking air intakes and a more muscular, powerful rear.
Comfortable cabin but isn't quite exciting

The SLC's cabin is fancy. It's finished in high-quality materials, too. But, there's a bit of disorder in the centre console - controls and knobs are everywhere. It certainly can't be compared to the Audi's clean and ergonomical dash layout, which is more advanced in terms of both design and technology.
Despite the nip-and-tuck, it's here that the SLC is starting to show its age.
Is it a case where form meets function?
If it's practicality you're talking about here, you might be thinking - practical isn't a word associated with roadsters but the SLC makes a strong case for itself in this respect.
There's a comfortable amount of space inside for two - buyers who want more seats can consider the
C180 Coupe
- and the seating positions are comfortable. Plus, you get an easy view of the road ahead. There are also a few storage holes to stow your keys or phone in. But, anything larger has to be stored in the 335-litre trunk, which in its segment, is generous.
And when you decide to go top-down, you can now do so at a pace of up to 40km/h. One disadvantage of the SLC's hard-top is that it takes 20 seconds to stow, which is twice as long as the TT's 10.
So it's comfortable to be in and nice on the eyes. What about performance?
For the highest level of Mercedes roadster performance, you'd want to own the SLC43. In this case, powering this car is a turbocharged 2.0-litre lump, which produces 181bhp and 300Nm of torque. That's enough shove for city driving and spirited highway sprints but what's lacking is emotion and engagement.
Even in Sport mode, the experience is a tad uninspiring, compared to rivals like the 718 Boxster. But on an unbiased note, the SLC is capable through fast corners. The car is reasonably composed and grips the tarmac nicely without sacrificing ride comfort - a trait, which makes it a very usable everyday roadster.
But, when you're in a roadster, you'd want excitement. In the SLC, there's close to none. Its bland, droning engine note doesn't help either.
Who should drive one then?
That depends where your preferences lie. For a touch of modernity and refinement, the Audi would make a better choice. Should performance and excitement be of utmost importance, nothing beats the 718 Boxster.
But for a handsomely-designed comfortable cruiser, the SLC does the job quite nicely.

Engine Type
:
4-cylinder in-line 16-valve Turbocharged
Horsepower
:
135kW (181 bhp) / 5500 rpm
Torque
:
300 Nm / 4000 rpm
Transmission
:
9G-Tronic (A)
Acceleration (0-100 km/h)
:
6.9sec
Fuel consumption
:
16.4 km/L