A sprightly character makes the turbocharged Hyundai Tucson a compelling car in its segment.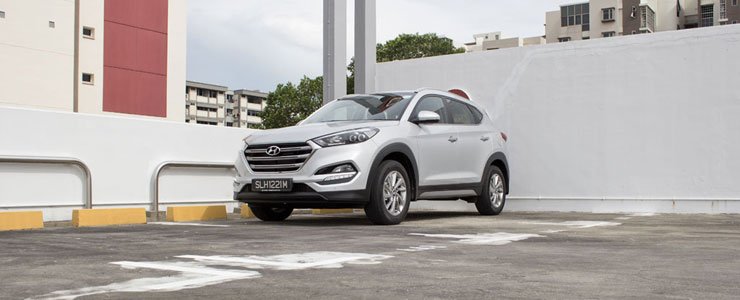 We're not fans of turbocharged cars but you and I both know that's just pride talking. Turbocharging, like it or not, plays a huge part in achieving better carbon emissions. When an engine is downsized and turbocharged, fuel economy is improved without the compromise of the car's performance. In other words, turbocharging, is the way to go now - making natural aspirated engines almost a rarity.
There are, however, some setbacks with forced induction. Drivers will always be experiencing turbo lag, leading to the lack of a linearity in power delivery when the accelerator is mashed. The other problem, of course, is the high cost of repair when your turbocharger is wrecked, which shouldn't happen if your car isn't modified.
Thanks for the educational talk. What's this about, anyway?
It's about the Hyundai Tucson being fitted with a new 1.6-litre turbocharged engine. Get behind the wheel of the Sport Utility Vehicle (SUV) and push it through a series of traffic lights around town and you get the immediate sense that the turbocharger is made for quick response rather than max output.
In that sense, the 1.6-litre turbocharged Tucson that you see here doesn't give you the satisfaction of swallowing distance like its
2.0-litre natural aspirated brethren
would.
What it does, though, is make up for its ample torque of 265Nm from the lower range as well as its generous power output of 175bhp. Get pass the 2,500rpm mark and you start feeling the turbocharger working its magic. Combine all these qualities and what you get is a 1.6-tonne SUV that's light and spritely on its feet.
Wait a minute. Are you serious?
Yes, every bit so. The Hyundai Tucson has an output that's even higher than the Mazda CX-5 and the
Toyota RAV4
, both of which sport a 2.0-litre powerplant residing underneath their bonnets.
Moving away from figures, the car is comfortable in all different aspects, too. On expressways, the Tucson impresses with its well-insulated cabin, even at three-digit speeds. You can hear the muffling sounds from the 17-inch tyres but that's only possible without the radio turned on.
Around town, where bumps and broken tarmac are of abundance, the suspension sends little or no vibration back to the cabin.
Speaking of the cabin, there's an inevitable sense that the Tucson has been designed to serve you loyally for a decade without falling apart. From the solid plastics on the dashboard and the supple leather seats to the multi-functional steering wheel and straightforward multimedia touchscreen, the Tucson is simply painless to live with.
The only gripe we had with the test car is the surprising lack of ventilated seats - a function that even the
Hyundai Elantra 1.6 GLS Elite
has.
Does it feel chunky as it looks?
At 4,475mm x 1,850mm x 1,660mm (L x W x H), the Korean SUV isn't difficult to place on the road. With its high seating driving position and a good view of the road ahead, you certainly feel confident.
Looks wise, it's a subjective issue. In our eyes, it's a fairly handsome and beefy-looking machine - almost a blend of superiority and ruggedness.
You're really a big fan of Hyundai, huh?
Well, I'm just being honest, really. I could speak the same for any other car from any other carmaker if it's equally capable. Of course, in this case, this particular Tucson does without the bells and whistles, such as a park brake button (with an auto hold function) and sunroof when compared to the 2.0-litre variant.
But you can be rest assured that it'll also return you with a lower road tax, higher performance figures and a reasonable real-world driving fuel economy of 11km/L.
This model is no longer being sold by local distributors
Engine Type
:
4-cylinder in-line 16-valve DOHC D-CVVT Turbocharged
Horsepower
:
130kW (175 bhp)
Transmission
:
7-speed (A) DCT
Acceleration (0-100 km/h)
:
9.1sec
Fuel consumption
:
14 km/L