With the newly facelifted Mokka X, Opel takes a stab at entering the hugely popular sport utility vehicle segment in Singapore.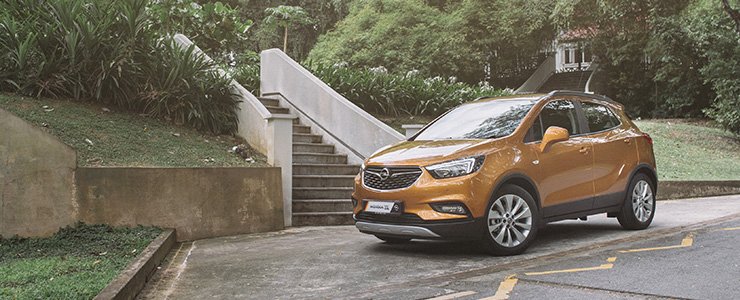 Local distributor for Opel, Auto Germany, has been keeping busy this year. First, it launched the award-winning
Astra
five-door hatchback back in June. The alluring
Adam
urban-chic city car followed two months later.
Now, it has brought Opel's smallest Sport Utility Vehicle (SUV), the Mokka X, to our shores to compete in one of Singapore's most hotly contested car segments.
A successor to the first generation Mokka, which was one of Opel's best-selling models overseas, the 'X' marks a new departure for the automaker.
In the future, the 'X' badge will be carried on all SUV and crossover models in the family.
With Singapore's love for compact and stylish SUVs showing no signs of slowing down, it only makes sense that Auto Germany cashes in on the craze by throwing the new Mokka X into the SUV mix.
It will go against cars like the popular
Honda HR-V
and the
Nissan Qashqai 1.2
, which continue to dominate a segment where drivers are driven towards style and design.
What is the Mokka X?


The Mokka X is being marketed as a compact SUV that combines stylish looks and a lively performance. It also fills the missing link in Opel's range of models available here. In terms of looks and appeal, the new Mokka X fits the part of the fun city compact SUV.
Priced at $122,888 (as of 22
nd
December 2016), it is slightly more expensive than both its aforementioned Japanese counterparts.
The Mokka X features Opel's distinctive new wing-shaped horizontal front grille and double wing signature LED daytime running lights, as well as its much-lauded 136bhp and 320Nm turbocharged 1.6-litre 'Whisper Diesel' engine.
This also happens to be the only engine variant available here.
How does it fit our local motoring landscape?
Singaporeans haven't quite warmed up to diesel engines despite the fact that they deliver more torque compared to their petrol counterparts. We reckon that's the first hurdle the Mokka X has to get over.
The second is that because of its power output of 136bhp, the Mokka X will be slapped with a Category B Certificate of Entitlement premium. Its peers such as the Honda HR-V, the Nissan Qashqai 1.2 and the
Suzuki Vitara
, on the other hand, remain to be Category A segment cars.
However, if you can get over the local stigma attached to diesel engines, and pry yourself away from Singapore's herd mentality, you'll be buying a car that has more peak torque than its petrol-powered competitors.
This model is no longer being sold by local distributors
Engine Type
:
4-cylinder 16-valve DOHC Turbocharged
Horsepower
:
101kW (136 bhp)
Transmission
:
6-speed (A)
Acceleration (0-100 km/h)
:
10.9sec
Fuel consumption
:
19.6 km/L