With its combination of good looks, excellent driveability and high levels of equipment, the brand new Hyundai Kona stands tall in the crossover market.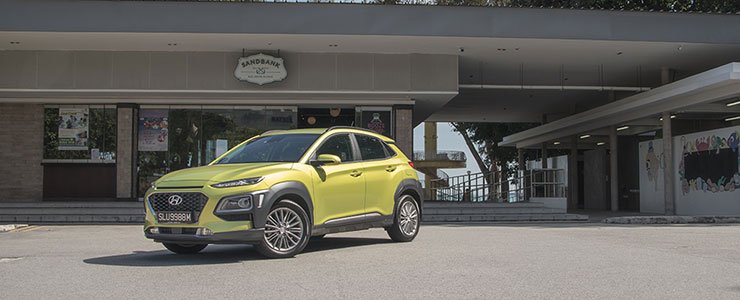 In recent times, Hyundai has been on a product offensive, launching not just one, but two brand new models in two segments it had not previously ventured into. The first was the
Ioniq
, which came with three different electrified drivetrains. The second is this crossover, the brand new Hyundai Kona.
Embracing a new lifestyle
The fact that the Kona is named after a coastal region of Hawaii should tell you a lot about how the brand perceives its new model. It's clearly aimed at a young, enthusiastic and outgoing demographic. So naturally, our test car came decked out in this striking Acid Yellow colour.
The Kona's striking and compact looks are more hatchback than Sport Utility Vehicle (SUV), and certainly stands out with its contrasting design elements and what Hyundai is calling its 'unique armour design'. It is certainly a stark departure from the brand's more utilitarian SUV offerings like the
Tucson
and the
Santa Fe
.
Common sense
In spite of its compact looks, the Kona actually boasts a relatively practical and spacious interior. We particularly like the coloured trim that matches the exterior colour, which injects a bit of liveliness into the cabin.
The Kona is also very well-equipped. The infotainment system is accessed via a 7.0-inch LCD screen, you've got a rear view camera, front and rear parking assist, electric driver seat with lumbar support, auto cruise control, drive mode select, and Komoco even throws in both a front and rear recording camera.
On top of that, you also get Hyundai Smart Sense, a suite of safety technologies that include Lane Keeping Assist System, Blindspot Detection and Autonomous Emergency Braking. The Active Lane Assist works quite well, and is certainly good enough for highway use, especially in combination with the cruise control.
Uncommon pace
The Kona is powered by a 1.6-litre turbocharged engine, and it is much more powerful than you'd expect a Hyundai to be. With 174bhp and 265Nm of torque on tap, the Kona accelerates with great verve. The engine is also mated to a seven-speed dual-clutch gearbox that shifts quickly and responds well.
Where the Kona really impresses is its tidy handling. The chassis is tight, the suspension well-sorted, and having all-wheel drive (AWD) doesn't hurt as far as traction goes. It drives remarkably like a hatchback - eager to turn and flat around corners. It's a car that you can chuck into corners with reckless abandon and come out the other side laughing to yourself.
Problems? Well, we don't like the warning sound of the lane departure system. It emits a light 'beep beep' that sounds too similar to an actual car horn, which can be incredibly frustrating especially if you're the sort of person that hates people sounding the horn (this writer goes absolutely ballistic). A vibration of the steering wheel would have been much more welcome.
The ride is also on the firmer side, and can be a little crashy for normal everyday driving. However, our biggest complaint with the Kona is the fact that the car comes equipped with AWD - it just doesn't need it. No doubt, it delivers better traction and handling, but most people will have little use for it. The Kona would certainly be cheaper to buy and cheaper to run if it was just front-wheel drive instead.
Right on the first try
Clearly, Hyundai is doing something right. Its first go with a electrified car, the Ioniq, was pretty impressive, though not without faults. And now, with its first go at making a crossover, it has produced something that is incredibly compelling, though again not without faults.
Yet, even with the few problems we have identified, the Hyundai Kona is probably the best non-European compact crossover in the market right now. It easily surpasses the
Toyota C-HR
, the
Honda HR-V
and the
Mazda CX-3
in terms of equipment, driveability and style. For $124,999 (as of 27
th
February 2018), it's hard to think of why you'd pick anything else in this particular segment.
Hell, we reckon it'd put up a good fight even against more expensive competition. And that's really saying something.
This model is no longer being sold by local distributors
Engine Type
:
4-cylinder 16-valve DOHC Turbocharged
Horsepower
:
130kW (174 bhp) / 5500 rpm
Torque
:
265 Nm / 4500 rpm
Transmission
:
7-speed (A)
Acceleration (0-100 km/h)
:
7.9sec
Fuel consumption
:
14.9 km/L