The BMW X2 is a compact crossover with striking looks and excellent driving dynamics that prove it pays to be different.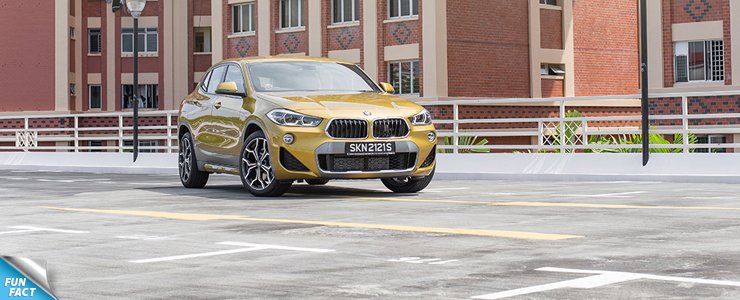 There was a time when being different meant that you would get dirty looks from passers-by and judgement from others who didn't share the same views and the same exact beliefs. These days, society has grown to become a lot more accepting of those who stand out, thanks to groups that advocate rights for a variety of minorities.


This acceptance of individuality bodes well for the new BMW X2, which the German marque calls the 'Rebel of the X family'. To us, it is a rebel with a cause.

Rebellious with a purpose

Imagine playing 'Where's Wally?' where everything is in black and white except for Wally. That's how much the X2 stands out on the road, even in the middle of bumper-to-bumper traffic. Decked out in an attention-grabbing Galvanic Gold paint finish, the 'rebel' is one car you'd have to be blind not to notice on the streets.

Adding to the X2's 'bold and beautiful' appeal is BMW's first ever M Sport X package. This includes an inverted kidney grille in the front, 19-inch spider web-like rims and contrasting Frozen Grey accents along its front and rear bumpers, as well as its side skirts that add to its rugged design and bold personality.


Though its love-it-or-hate-it styling may not be for everyone, one thing is for sure. The X2 turns heads everywhere it goes and is definitely not something you'd use as a getaway car.

Beauty is within, not without

Its cabin is simply a joy to be in. It features Aluminium Hexagon Anthracite trim along the dashboard and interior door panels, There's also an abundance of soft-touch materials lined with yellow stitching that afford the X2 a sense of modernity and sportiness not commonly found in many crossovers.

Adding to its sporty appeal are reassuringly supportive sport seats decked out in a fabric-Alcantara combination - which comes as standard - and ambient lighting that can switch between six different colours.

Blurred lines
The new BMW X2 may be a compact crossover on paper. Get behind the wheel, though, and you'll discover that it's anything but. The X2 handles more like a hatchback than a crossover, thanks to an M Sport suspension setup that lowers its ride height by 10mm, which equates to a lower centre of gravity, improved agility and minimal body roll around the twisties.
Chuck it into corners and the X2 makes for a well-composed, confidence-inspiring cornering experience. The downside to that is, with stiffened springs and dampers, the M Sport suspension doesn't provide the most comfortable ride. Something to consider if you prefer soft and gentle to hard and fast.
Performance, on the other hand, leaves more to be desired. Capable of churning out a respectable 189bhp and 280Nm of torque, the X2's 7.7-second century sprint time and 227km/h top speed are by no means slow, considering its size, but it's no pocket rocket either.
Mated to a smooth-shifting seven-speed Steptronic Sport dual-clutch, the 2.0-litre turbocharged in-line four in the X2 didn't excite us quite as much on the straights as it did in the bends.
Dare to be different
The BMW X2 is, without a doubt, one of the most unique-looking crossovers we've come across. So how does it fare in a market that sees no shortage of newcomers?
Pretty well, we'd reckon. It may not be to everyone's liking, but the X2 doesn't concern itself with the opinions of the masses. It dares to be different, it revels in its ability to stand out, it rebels against social norms. It's the rebel with a cause.

Engine Type
:
4-cylinder in-line 16-valve Turbocharged
Horsepower
:
141kW (189 bhp) / 6000 rpm
Torque
:
280 Nm / 4600 rpm
Transmission
:
7-speed (A) Steptronic Sport DCT
Acceleration (0-100 km/h)
:
7.7sec
Fuel consumption
:
16.6 km/L