---
The new Jeep Compass may not be big on pace but it definitely has the space and grace expected of a modern family sport utility vehicle.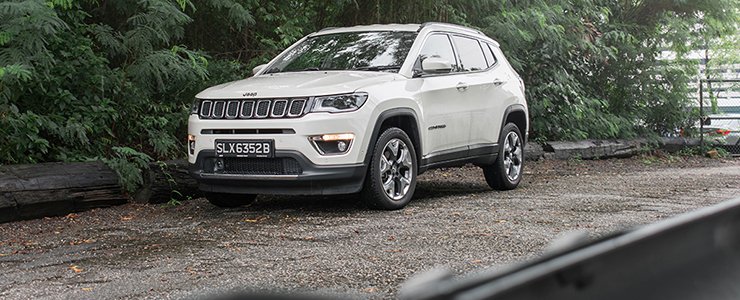 Can a hard-wearing, rough-goer double up as a comfortable people mover? Jeep seems to think its all new Compass can. Now in its second generation, the Compass follows in the footsteps of the
Renegade
, signalling Jeep's second attempt at the increasingly lucrative compact sports utility vehicle segment.
Unlike its predecessor, which looks as if a child had styled it, the new Compass actually looks pretty good. There's a good amount of modern lines and chrome bits married to the brand's iconic seven-slot grille, making it an instantly recognisable model on the road.
It's a design that will tickle the fancy of those who like their off-roaders a little refined around the edges, yet different enough to stick out from the sea of Hondas and Subarus.
How's creature comforts, though?
Inside, there are enough creature comforts that will satisfy even the most demanding critic, such as an 8.4-inch Apple CarPlay and Android Auto-equipped infotainment system, dual-zone climate control, an electric parking brake and ventilated front seats.
Audiophiles can also appreciate the BeatsAudio sound system, which is a standard fixture. And while ergonomics aren't as great as in a
Volkswagen Tiguan
, the switchgear is logically laid out enough to be useable.
More importantly, the cabin is airy and there's adequate legroom for a family of five to get around in comfort, while general fit and finish is above expectations. It's certainly sharply dressed enough for a car priced at $136,888 without COE (as of 25
th
June 2018).
And how does an off-roader sit in the city?
At cruising speeds, the Compass tackles most of the tarmac with relative ease but does get a little busy and surprisingly harsh when trotting through city traffic, especially over pockmarked roads.
Thankfully, it's not enough to really ruin the experience.
What is perhaps the Achilles heel of the car is its powertrain. The turbocharged 1.4-litre engine, which produces 168bhp and 250Nm of torque, doesn't feel punchy. The fact that the nine-speed automatic transmission is equally sluggish doesn't help too.
There is an inherent laziness to accelerate, as well as shift gears, which is quite disappointing for a car of the modern age. The Compass feels gutlessly heavy most of the time and overtaking requires careful judgement. Luckily, there is a blind spot monitoring system in place to keep you and the neighbouring vehicles safe.
But if you're unfussy about performance, it is admittedly an easy car to drive and comfortable to ride in.
And for those who intend to take the Compass on the occasional off-road trips, its four terrain modes - snow, sand, mud and rock - as well as low-gear and hill descent options and an all-wheel-drive lock, will ensure that the car doesn't get itself stuck.
While it is slightly lacking in terms of pace, the Jeep Compass definitely displays the space and grace expected of a modern family mover, on top of its signature rough-roading credentials.
If you're in the market for an uncommon family proposition, the Compass is a rather interesting choice.
This model is no longer being sold by local distributors
Horsepower
:
125kW (168 bhp) / 5500 rpm
Torque
:
250 Nm / 4000 rpm
Transmission
:
9-speed (A)
Acceleration (0-100 km/h)
:
-
Fuel consumption
:
14.4km/L