The Volkswagen Golf 1.4 Highline combines familiar dynamic behaviour with a premium and modern interior.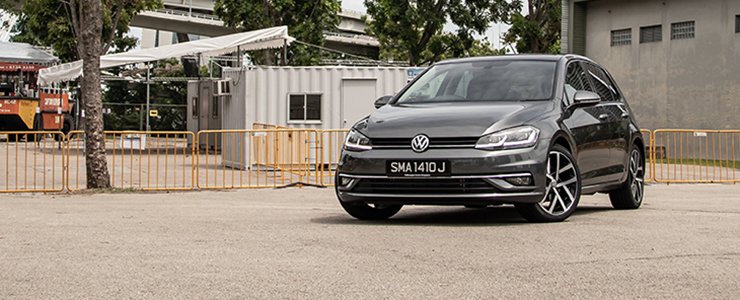 When the new 'Mk 7.5' Golf was launched early this year, there were three variants available - the
1.0 TSI
, the
GTI
and the G
olf R
. Now, another variant has been added to the lineup - this Golf 1.4 Highline.
What's this, another Golf?


Indeed, though you should know that this isn't the newest engine variant available. That would be the new
1.5-litre engine
. This 1.4-litre unit is actually carried over from the
Mk 7 Golf.


It's not overly powerful, producing 123bhp and 200Nm of torque, but power comes in a smooth fashion, and it makes for rather effortless driving. It's also notably more quiet and refined than the three-cylinder 1.0-litre engine.
As far as the car's dynamic behaviour is concerned, it's the Golf we know and love. Planted ride, sharp steering, good agility in corners, excellent ride composure, those qualities are all present.
How's the interior like?


In Highline trim, the Golf feels much more premium compared to the 1.0-litre variant. In fact, the interior is effectively the same as the GTI and the Golf R, at least visually (badging and model-specific trimming aside, of course).
You get the Active Info Display, the 9.2-inch Discover Pro infotainment system with gesture control, a panoramic sunroof, all the goodies that make up this new generation interior. The only notable differences you might spot is that the 1.4 Highline doesn't have the 'Park Assist' and 'ESC off' buttons.
As with all VWs, the interior is a very intuitive and familiar place to be in. Operating the various car functions is simple and straightforward, with most functions just one button press away. And of course, it's comfortable and reasonably spacious as well.
There's also additional safety systems available, including the Blind Spot Sensor with Rear Traffic Alert and the proactive occupant protection system.
So which Golf should I buy?


That depends on what you want. If you just want the cheapest one available, that would be the 1.0 TSI, which is now selling for a rather remarkable $89,900 (as of 6 July 2018). If it's sheer power and performance you are looking for, you're going to have to fork out siginificantly more for the GTI or the R.
This 1.4 Highline variant slots somewhere in between (obviously). It's now retailing at $122,400 (as of 6
July), and while that's not the cheapest choice in the hatchback segment right now (especially since the drop in
COE Cat A premiums
has driven car prices down), this car is probably one of the best-equipped models available in its price point, and certainly the most premium-feeling one right now.
As far as affordable creature comforts go, this Golf is the one to have.

Engine Type
:
4-cylinder 16-valve TSI Turbocharged
Horsepower
:
92kW (123 bhp) / 6000 rpm
Torque
:
200 Nm / 4000 rpm
Transmission
:
7-speed (A) DSG
Acceleration (0-100 km/h)
:
9.1sec
Fuel consumption
:
18 km/L