The updated Volkswagen Golf R is an understated hot hatch that will do well to stand against its segment peers.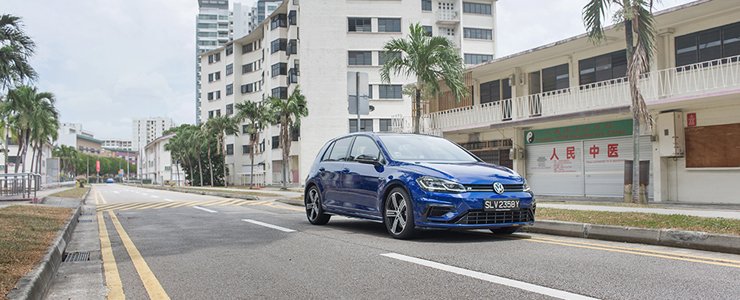 'Anything in life worth doing is worth overdoing, moderation is for cowards'. This adaptation from the US Navy SEALs' Frogman ballad succinctly describes the Volkswagen Golf R.
That said, if you're in the market for a daily-driving
hot hatch
but can't decide between the 'Mk7.5'
GTI
and Golf R, go with the latter.
Don't get me wrong, the GTI is a brilliant car in its own right, and comes with an illustrious history, as well as decades of heritage.
But when you think about it, the Golf R has got just about the same practicality and comfort as the GTI. It's also got more power and better driving dynamics. And, it doesn't look like a car designed for prepubescent teenage boys, unlike some of its rivals like the
Honda Civic Type R
or the
Ford Focus RS
.
Hiding in plain sight
Subtlety is the name of the game for the Golf R, which is good news for those looking for a pocket rocket that doesn't make them look like a complete tool.
From the onset, the Golf R takes a more gentlemanly approach to its looks than its aforementioned rivals.
It prefers to stay under the radar and away from the spotlight, with a matured styling that only hints at the beast lying in wait.
Look closer and you'll notice subtle touches such as 18-inch alloy wheels, a boot spoiler, quad tailpipes, larger 'R' brake calipers, as well as 'R' badging, that definitively differentiate this car from an ordinary
Golf
.
And while the Golf R may look boring to some, what lies beneath is anything but, thanks to its sweet EA888 engine, which produces power that borders on obscenity.
More go than show
The EA888 in the Golf R that we've grown to know and love has gotten a slight bump in power output with the 'Mk7.5', from 276bhp to 286bhp, and comes with 380Nm of torque. It also gets an extra gear, bumping its six-speed DSG up to a seven-speed.
Couple this with the 2.0-litre TSI and you get a 250km/h top speed, as well as a 0-100km/h time of just 4.6 seconds (it used to do it in five).
The Golf R also has something the GTI doesn't - 4MOTION. Thanks to the 4MOTION all-wheel drive system, the Golf R isn't as fazed by wet tarmac and meandering roads.
Put your foot down and it'll launch itself off the line just as easily in the wet as it will in the dry. It'll also allow you to sling shot out of corners without having to worry about wrapping yourself around a tree.
But here's the kicker, the Golf R isn't exactly a fuel sipper when you push it really hard. We did, and managed to bring it down to as low as 4.5km/L (in the name of science, of course).
That said, when you're not driving like a maniac, you'll get a respectable fuel consumption figure averaging 10.2km/L. Not too shabby for an R-rated hot hatch.
Understated, undeR-rated
Lame puns aside, the Golf R isn't as brutal as some people make it out to be and is perfectly suitable for day-to-day driving around town.
It's got almost the same boot space as its Golf brethren (at 343 litres), an exhaust note that isn't as loud and obnoxious as other boy-racer hot hatches, and a ride quality that doesn't send shocks up your spine every time you hit a bump, especially in Comfort mode.
Of course if you're going to get this car, Race should be the only mode you'll ever be in. It makes everything tighter, more responsive, and a hell lot more fun to drive.
So the question is, do you believe in moderation or going all out? If you agreed to the latter then congratulations, you've found the perfect Golf. After all, anything in life worth doing is worth overdoing and moderation is for cowards. Plus, it's just as practical and comfortable as its siblings, but is way faster and a whole lot more fun to drive.
Unless, of course, you're a die-hard
GTI fan
...


Engine Type
:
4-cylinder 16-valve TSI Turbocharged
Horsepower
:
213kW (286 bhp) / 6500 rpm
Torque
:
380 Nm / 5300 rpm
Transmission
:
7-speed (A) DSG
Acceleration (0-100 km/h)
:
4.6sec
Fuel consumption
:
14 km/L