With its punchy drivetrain and stylish good looks, the Seat Leon is a worthy alternative to the Audi A3 Sportback and the Volkswagen Golf.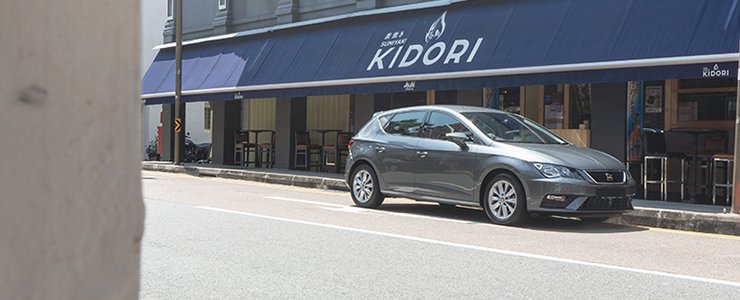 When it's down to affordability, practicality and good looks, very few hatchbacks come close to the formidable
Audi A3 Sportback
and the class-leading
Volkswagen Golf
.
That is, until now.
The Seat Leon is the Spanish carmaker's take on both the popular hatchbacks. The brands are all part of the Volkswagen Group.
Thus, all three models share similar architectural platforms and engineering lineage. However, the Seat Leon has always been perceived to be the least accomplished, no thanks to its unfamiliar badge.
Punches above its weight
Things look like they're about to change. Underneath the Leon's sloping bonnet resides a 1.0-litre three-cylinder minute powerplant that sends out 114bhp and 200Nm of torque to its front wheels.
While these are humble figures, the car is capable of dishing out an energetic drive in real world conditions. It's so responsive that you would think the car is powered by a larger engine.
It revs readily and enthusiastically, with only a tinge of harshness once past 4,500rpm. But as with most 1.0-litre three-pot engines, smoothness isn't the car's forte and that can be experienced most when its start-stop function kicks in - with a stonger tremble.
Other than that, the Seat Leon is a peach to pilot. Once it gets up to speed, which doesn't take long, any difference between the Spanish hatch and its peers with bigger engine displacement capacity is imperceptible. As such, performing overtaking manoeuvres can be done without getting your palms sweaty.
But more than just its acceleration, the Leon sips fuel lightly while on the move, too. During my four-day test drive with the car, I managed 17.6km/L - far from its stated 22.7km/L - but nevertheless notable.

On par with the best
The Seat Leon also impresses on other fronts. Its cockpit, for instance, is a clean and familiar place, with a user-friendly and nicely-sized 8.0-inch touchscreen infotainment system taking centre stage. Also, it has enough space at the back to swallow three adults and a 380-litre boot to haul your everyday items.
It does lose out a tad in terms of quality to Audi and Volkswagen, but it makes up with its handful of standard equipment. It has keyless entry, rear view camera, rear air-con, electronic park brake with auto hold, and wireless charging for smartphones. Alas, our test car in its Style Plus trim comes with halogen headlamps.
Design wise, the Leon is a rather stylish hatch over cars like the
Ford Focus
, the
Opel Astra
and the Volkswagen Golf, even if it's easily forgettable. Half the time I kept thinking I was driving a Golf, which could be a good or a bad thing, depending on how you look at it.
Own it, drive it
For us, badging isn't that big a deal. Yes, getting a Seat would probably affect your resale value compared to more popular models like the A3 and the Golf, but considering the Leon comes with a more affordable pricetag, this should be enough to make it a winner.
The fact that more Seat cars can be seen on the road is proof of that. It having a considerably affordable road tax of just $392 a year is another bonus.
For hatchback lovers or first time buyers, the Seat Leon undoubtedly offers a value-for-money proposition that is hard to overlook. The only thing that buyers need to accept is its badge.


Engine Type
:
3-cylinder 12-valve
Horsepower
:
85kW (114 bhp) / 5500 rpm
Torque
:
200 Nm / 3500 rpm
Transmission
:
7-speed (A) DSG
Acceleration (0-100 km/h)
:
9.6sec
Fuel consumption
:
22.7 km/L