---
The Performance Pack ramps up the dynamic capabilities of the outstanding Hyundai i30 N without compromising its everyday liveability.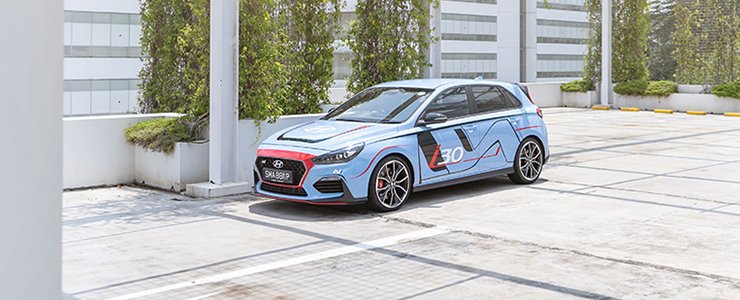 Not exactly subtle, eh?
Yes, this is an
i30 N
(as if the GIGANTIC decals wasn't obvious enough), but importantly, this isn't your typical i30 N. This one here is the i30 N Performance Pack.
So, it's got more performance?


As the name suggests, this car has had several upgrades to enhance the i30 N's performance capabilities.
Power from the turbocharged 2.0-litre engine has been bumped up to 271bhp (an increase of 24bhp), while peak torque remains at 353Nm. This allows you to shave 0.3 seconds off the car's 0-100km/h time (6.1 seconds).
The Performance Pack also adds an electronically-controlled Limited Slip Differential (LSD). The effect of this is clear - when you floor the car in first gear, wheelspin is largely absent, and the car doesn't feel as wayward as before.
There are also bigger brakes, 19-inch wheels (compared to the 18-inch on the standard car), as well as stickier Pirelli P Zero tyres.
There's also a variable exhaust valve system, which a louder, more backfire-y exhaust. The backfire sounds aren't the most naturally generated but, hell, it is still endlessly entertaining.
Inside, you also get a tad more equipment, such as heated front memory seats with lumbar and cushion extension, a heated steering wheel, and factory-fitted leather/suede upholstery.
Also, the i30N PP features N Grin Control. Yes, it's kind of a silly name, but essentially what it does is it allows you to customise a wide variety of powertrain and chassis settings - engine response, rev matching, exhaust sound, electronic controlled suspension, steering and electronic stability control. 
So the car's better now?


What's that done to the car? The Performance Pack has definitely has made it a more focused vehicle. The LSD and tyres definitely aid the car's tractability and handling, especially on the limit. The rowdy exhaust also ratchets up the overall drama of the car.
The car's greatest party trick, though, has got to be the rev-matching. It makes you feel (and sound) like an absolute hero every time you downshift as you brake towards a red light.
The blips are perfectly executed (infinitely better than we can manage with our meager abilities), and anyone outside the car would easily be fooled into thinking you are executing perfect heel-toe technique. Which, of course, you are not. Brilliant, eh?
Importantly, the inherent joy, driveability and daily usability of the car have not been compromised. In the Comfort setting, the car is pliant and forgiving, making everyday use a breeze.
Time to get one?


It's not quite as dynamically sharp and aggressive as the
Renault Megane RS
, the cabin not quite as sleek and upmarket as the
Volkswagen Golf GTI
, but the i30N PP holds its own against these two stellar hot hatches.
It's undeniably involving and fun to drive, especially since it's offered with three pedals. It's just a really, really good hot hatch.
Question is, is this worth the $20,000 upgrade over the standard model? The price jump is significant because the i30 N PP falls into the C1 VES category, hence netting a $10,000 penalty over the standard i30 N (B category).
$20,000 is a pretty big jump, but all things considered, it's probably still worth it - this i30 N PP is Hyundai's hot hatch in its most extroverted, most authentic and most excellent form.
That said, settling for the standard model isn't a significant sacrifice if you don't intend to take your car to the track or push it to its dynamic limits. However you choose, there's no doubting that you're getting one hell of a car. 
This model is no longer being sold by local distributors
Engine Type
:
4-cylinder in-line 16-valve DOHC Turbocharged
Horsepower
:
202kW (271 bhp)
Transmission
:
6-speed (M)
Acceleration (0-100 km/h)
:
6.1sec
Fuel consumption
:
14.1 km/L