In its mid-cycle update, BMW has gifted the X1 with a refreshed exterior design and new interior equipment.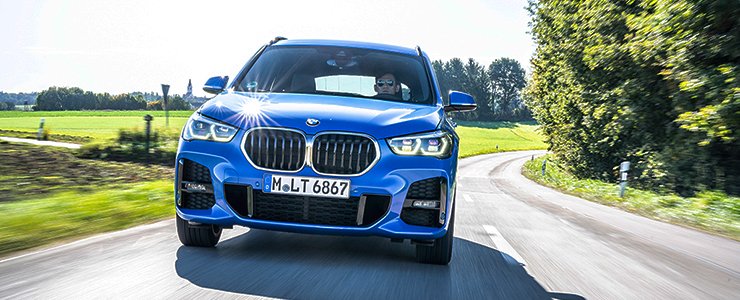 The past decade or so has seen a crossover explosion, with brands all adding new mini-SUV options to their product lineup. BMW is no different, with the
X1
(first launched in 2009) and the
X2
(launched in 2017).
And sure, the naysayers will lament such cars as cynical money-making atrocities. But let's get one thing straight - they make money. A lot of money. In 2018, the X1 was BMW's best-selling X model globally.
And hey, as much as we car enthusiasts love to effuse about driving involvement and connection, the truth is that most car owners don't so much care for these ephemeral things. At the end of the day, car companies are also in the simple business of making money.
The X1 has been BMW's big money maker. Over its two generations, it has sold more than 1.6 million units worldwide. However, the
second generation model
(launched in 2015) is now four years old, so BMW has smartly decided it's time to give it a breath of new life. Hence, this
mid-cycle facelift
, or what BMW dubs Life Cycle Impulse (LCI)...   
New light


A big part of this facelift is the exterior styling. The front end is more muscular now, with a new front bumper, a bigger kidney grille that's now merged in the middle, larger air intakes, slimmer LED head lights and a new fog lamp design. The rear also features a new taillight design and 20mm wider diameter tailpipes.
Overall, it's a more modern and sleek design that brings it notably in line with its bigger brothers like the
X3
and the 
X5
. In fact, in the rear view mirror or from afar, you could easily mistake the new X1 for one of its bigger brothers.
There are also three new colours available, and four new wheel designs. Also, open the door and there's an 'X1' logo light projection that shines on the floor (BMW says it's to help illuminate any rocks or what not, but come on, it's there because it's cool). 
New toys


Expectedly, the X1 LCI also features updated cabin equipment. The big change is the infotainment screen. Our test drive model came with a 10.25-inch free standing Touch Control Display (Singapore cars will get either a 6.5 or 8.8-inch Control Display) running the updated sixth generation iDrive system. 
Also available are a number of optional features and equipment such as a head-up display and handsfree Apple CarPlay. Our test car also came with the handy Traffic Jam Assist, but that won't be available for the Singapore market.
Cleaner oomph


Globally, this facelift sees BMW revise some of its engine offerings to comply with stricter EU emissions standards, and there are a total of 16 engine/transmission options available globally.
This particular car we drove is an xDrive25i powered by a turbocharged 2.0-litre engine with 228bhp and 350Nm of torque. Acceleration is brisk and effortless, the steering is meaty and the front end pretty responsive, and there's ample traction on twisty roads.
However, Singapore won't be getting this particular variant (neither this engine nor all-wheel drive), so there's not much I really need to tell you about this specific powertrain variant.
The important thing to know is that X1 hasn't been altered mechanically, so it drives just like it used to - comfortable, easy to pilot and just generally a good runabout vehicle. 
Breathing new life


Look, the X1's business case is pretty simple - it's an affordable, affable and competent BMW that appeals to buyers looking to access a more upmarket brand. With this facelift, BMW didn't need to mess around with the basic skeleton of the car. All the carmaker needed to do was to update it to modern standards (refreshed design, new gizmos).
The update breathes new life into a four-year old model, and there's no doubt that this updated X1 is going to continue to sell like hot cakes.