---
Underneath the conservative-looking body of the Almera is a well-built package of good fuel economy and comfortable interior.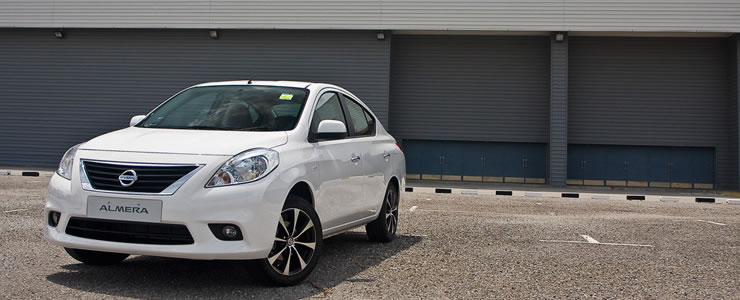 While cars such as the Nissan March, Toyota Vios and Altis are selling like hotcakes in the emerging automotive markets in the region, they garner a very different reception in the Singapore market.
This is the same issue for the Nissan Almera. Being the second car they launched this year (first was the Nissan March), Nissan has been pretty confident of its sales, banging on the car's space as its selling point.
While Nissan sports cars has an enviable reputation for kickass performance and exceptional handling (think GT-R and 370Z), the more conventional Almera, unfortunately, comes across as being the opposite.
Exterior
Still, it does have a gentle and modern appearance up front. The diamond-shaped headlights dominate the fascia while chrome trimmings around the grille add to the presentable look of the Almera.
It is overall inoffensive, with looks that may grow on you over time - an almost typical characteristic for a compact car such as this. This feel magnifies on the rear side too. The stretched out tail lamps are about the only mention here but it's ironically a charming factor. The car's simplicity, somehow, has the pulling influence of drawing praises from drivers.
However, we do reckon the divided lines between the door panels and bonnet do seem a little obvious. We aren't sure if it's due to the white colour which dramatises the lines but it does resemble a jigsaw puzzle that's pieced together to form a car.
But given its target audience, the 'lines' are but mere small quibbles to buyers. Available in three variants (Premium, Comfort & MT), the Premium variant that we tested comes with a keyless entry system - a feature not many Japanese compact sedans have today.
This model is no longer being sold by local distributors
Engine Type
:
4-cylinder in-line DOHC
Horsepower
:
74kW (99 bhp) / 6000 rpm
Torque
:
134 Nm / 4000 rpm
Transmission
:
4-speed (A)
Acceleration (0-100 km/h)
:
-
Fuel consumption
:
14.5 km/L