---
In a time when hot hatches cost more than an arm and a leg, the Swift Sport maintains its stand as a cheaper alternative without losing its fun factor.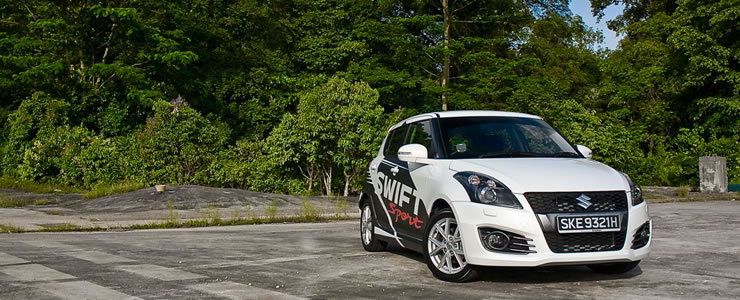 Hot hatches have become expensive (wait, cars have become expensive). Gone are the days when you could walk into a showroom and order a Volkswagen GTI for a little more than the current price of a Chevrolet Cruze 5 Sportback now. On the bright side, the mature boy racers who are looking for a bit of punt with their practicality can now consider the latest hatch from Suzuki.
Available with a CVT automatic transmission or a six-speed manual that you see here, the Suzuki Swift Sport (aka SSS) is a breath of modest fresh air amongst the bigger and boastful MINI Cooper S, Focus RS, Golfs and Polos. Ironically, the naturally aspirated SSS could even be considered as a hotter hatch than other turbo nut jobs in the market.
Why, you may ask?
Well, combining the warm temperate character and practicality with its quick steering and bodywork enhancements (not to mention its cheaper pricing), the SSS has excelled at the art of hot hatching, starting with the Swift GTi over two decades ago. As a result, in times when COE prices are constantly ridiculed at, the car bearing the 'S' logo is one that embodies the term 'affordable' almost so perfectly.
Exterior
Where styling is concerned, the Sport's predecessor didn't disappoint, which was why it was such a hit with its fans and the new one here isn't an exception. Suzuki took the old winning formula and tweaked it, more so on the front, making the car a visual enjoyment whether it's on the move or stagnant at the lights.
It's now more aggressive up front, with sharp-edged fog lamps surrounds and enlarged grilles. As a matter of fact, the entire face has been pulled back - headlamps are now stretched further in while the bonnet is angled slightly higher, giving the hatch an energetic and dynamic stance. Where it does remain is the sporty side profile, where it progressively tapers from the front to the rear windows, resulting in the similar good looks to the Nissan Juke and the Kia Soul.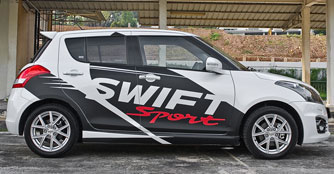 The SSS has a tapered roofline which enhances its sporty looks
This model is no longer being sold by local distributors
Engine Type
:
4-cylinders in-line
Horsepower
:
100kW (134 bhp)
Transmission
:
6-speed (M)
Acceleration (0-100 km/h)
:
8.7sec
Fuel consumption
:
15.4km/L