---
With a two-door coupe on one side and a four-door hatch on the other, the Hyundai Veloster is a showy car that's aimed at the younger crowd who knows how to appreciate style.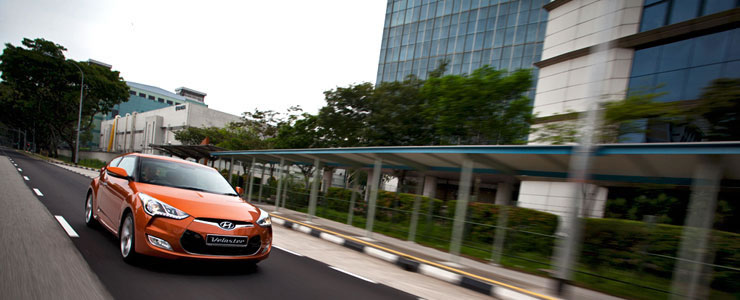 Entering the automotive market now is a tough gig, let alone the hot hatch segment. Continental breeds such as Audi, Volkswagen as well as MINI have placed both their feet in the pie and have dominated it for a long time. While the Japanese have done a good job in swaying choices with the Honda Jazz, Swift Sport and Subaru Impreza Hatchback, the Koreans have just merely started on their journey to the hatch (pun totally intended).
Kia launched its Forte Hatchback in the third-quarter of 2011 and while it was a car worthy of its name and price, it didn't fare well amongst the competition due to high COE prices. Now, fellow Korean carmaker, Hyundai, decides it wants a piece of the hatchback pie with its latest offering - Veloster. It was years ago in 2007 when the concept was unveiled at Seoul Motor Show but it wasn't until early January in 2011 when the final production was showcased at Detroit Auto Show.
Exterior
Considering that Hyundai was filling the void left by the Tuscani, the Korean marque did one hell of a job. Its latest attempt to produce a coupe without compromise has proven that the Korean carmaker hasn't lost its design touch yet. Least to say, the Veloster, whether near or far, is a looker.
As it is, the Veloster has a bold-looking fascia that's pulled back tightly with deep sculpted lines and it mimics the rest of the recent models in its stable. Where it doesn't exhibit mimicry is the layout of the rear door. Having similar design as the Nissan Juke where the rear door handle is flushed with its sheet metal, the Veloster sports a single door on the driver's side and a pair of doors on the other to improve access to the back seats. It's probably one of the most innovative designs we've come across in years.
This mutated coupe-hatch also sports a silhouette that could be easily mistaken as the coupe offering from Volkswagen. Where it differentiates itself from its continental competitor is the blacked-out roof and the scalloped portions of the rear fenders which certainly add visual enjoyment to the Korean car.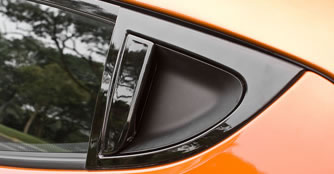 Design of the door handle is similar to Nissan's offering
This model is no longer being sold by local distributors
Engine Type
:
4-cylinders in-line GDI DOHC
Horsepower
:
104kW (140 bhp)
Torque
:
158 Nm / 4850 rpm
Transmission
:
7-speed (A) DCT
Acceleration (0-100 km/h)
:
10.3sec
Fuel consumption
:
11.7km/L