---
The Wrangler adopts modernised tech upgrades without losing its true identity.
The choice of ride, more often than not, provides a window into an individual's personality.
The afore-statement couldn't have been more accurate for the car in question. Putting your characteristics to the test: with sense of sportiness, and the love for that out-of-the-world ruggedness being the key attributes - it takes a substantial dose of these factors to commit to a Wrangler.
With links to the illustrious Willys Jeeps originally commissioned for military use, it leaves no lingering doubts about its off-road prowess and abilities to hold it together when the tough gets going.
Exterior
Since its beginnings, little has been changed about the Wrangler. Despite taking on a seemingly civilianised high-gloss coat of black paint, the car still looks distinctively rugged bearing the protruding arches with matching matt bumpers.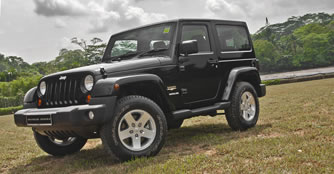 Not your usual SUV - the Wrangler retains the proportions and features of its build-for-military predecessors
The age-old facet layout looks timeless with roundel headlamps flanking the seven-slot grille - a signature of the marque which has seen the most of its years in existence. In two-door trim especially, the Wrangler looks handsome to say the least, putting off a stance that is un-replicable from its tamer-looking crossover rivals.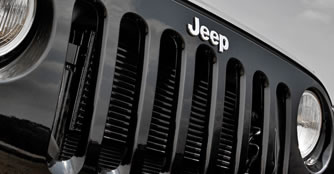 An authentic bearer of the Jeep badge - Seven-slot grille a reminiscent of its heritage
This model is no longer being sold by local distributors
Engine Type
:
V6 24-valve DOHC Dual VVT-i
Horsepower
:
212kW (284 bhp) / 6350 rpm
Torque
:
347 Nm / 4300 rpm
Transmission
:
5-speed (A)
Acceleration (0-100 km/h)
:
8.1sec
Fuel consumption
:
9.6km/L