---
Keeping simplicity at its best, the Note is a practical everyday car that's ideal for transporting your passengers from point to point.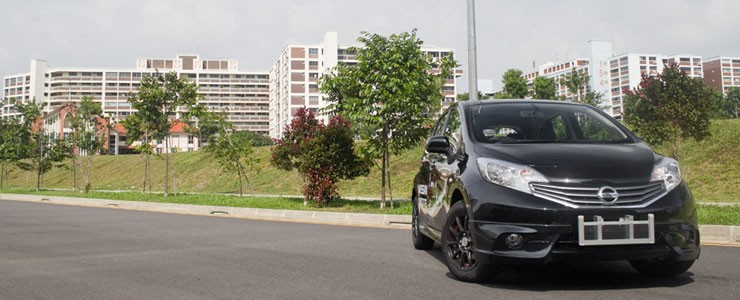 Following the unveiling of the Nissan Invitation concept at the 2012 Geneva Motor Show, the production version made its world premiere at a special event in Yokohama as the all new Nissan Note.
The second generation of the Nissan Note that you see here takes the shape of a hatchback, ditching the 'MPV' roots of its predecessor. As a result, it features a stylish and sporty exterior that creates a sense of dynamism and sophistication. A revamped body structure also allows interior space to be maximised.
The new Note is available in either a 1.2-litre naturally aspirated or supercharged engine. Built with spaciousness and fuel efficiency in mind, the Note is ideal for young buyers who are looking for a compact hatchback that combines style and performance but is also easy to maintain.
Exterior
Compared with the outgoing model, which unfortunately did not make it here on our shores, the new Note features a stylish exterior that sports a unique grille coupled with swept-back headlights that exude a powerful stance. Also coming in as standard on the supercharged Note is a full body kit which completes the sporty outlook.
The sporty silhouette of the Note is enhanced via a dynamic roof line that stretches from the front grille as well as a distinctive design on its side, known as the 'Squash Line', which gives a feeling of the car being in motion even at standstill.
On the new Note, improvisation of original features can be found, like the boomerang styled taillights found on its predecessor.
Though the Note does have its own symbolic front facet to distinguish itself in its segment, coincidentally, the rear of the car mildly resembles the Ford Focus.
This model is no longer being sold by local distributors
Engine Type
:
3-cylinder in-line CVTC Supercharged
Horsepower
:
72kW (97 bhp) / 5600 rpm
Torque
:
142 Nm / 4400 rpm
Transmission
:
Xtronic CVT (A)
Acceleration (0-100 km/h)
:
-
Fuel consumption
:
19.6 km/L