---
The latest 6 from Mazda puts the Japanese brand back in the game that has been dominated by German brands.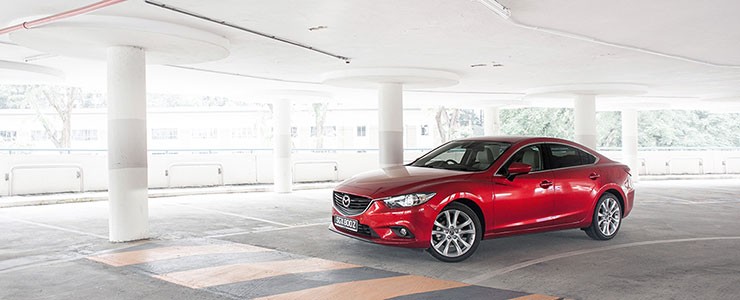 Successor to the Mazda 626, the Mazda6 has been produced by the Japanese marque since 2002 and has since sold over a million units worldwide.
The car was never a looker - not until the second generation made its premiere at the Frankfurt Motor Show in 2007. Improvements were made to the car but, by then, due to tough competition that was brought about by German manufacturers, Mazda no longer appeared on buyers' radar.
But all this is about to change. The third and latest generation Mazda6 was first unveiled last year during the Moscow International Motor Show. And it was only in end February when the car was finally
launched here
in Singapore.
Exterior
In its place, you see a car that can easily pass off as a Continental offering, if it isn't for the Mazda badge. It's one of the best looking Mazdas ever and it won't be a surprise if it's going to drive showroom traffic up because of that.
The bold lines on the long hood, pronounced front wheel arches as well as a forceful face add up to make this 6 a decidedly more attractive and masculine car. To some extent, it's even more elegant than many of its peers in its segment, thanks to LED accents on the sleek eyes.
Standing at 4,865mm x 1,840mm x 1,450mm (L x W x H), the Mazda6 is even longer than the Lexus GS. This immediately translates to more drama when the car is swallowing distances on the road.
While some may argue that the Mazda6 isn't as stunning as the
Takeri Concept
car that inspired it, we beg to differ. Considering that concept cars usually lose a lot of their drama and fine lines from the time the car is on the show stand to the time it reaches the showroom, we reckon the Japanese marque did a brilliant job with the 6.
This model is no longer being sold by local distributors
Engine Type
:
4-cylinder in-line 16-valve
Horsepower
:
138kW (185 bhp) / 5700 rpm
Torque
:
250 Nm / 3250 rpm
Transmission
:
6-speed (A) Activematic
Acceleration (0-100 km/h)
:
8.1sec
Fuel consumption
:
15.2km/L