---
The Jeep Grand Cherokee gets a handful of potent power, adding to the woes of segment-dominating Germans with its pedigree and good looks.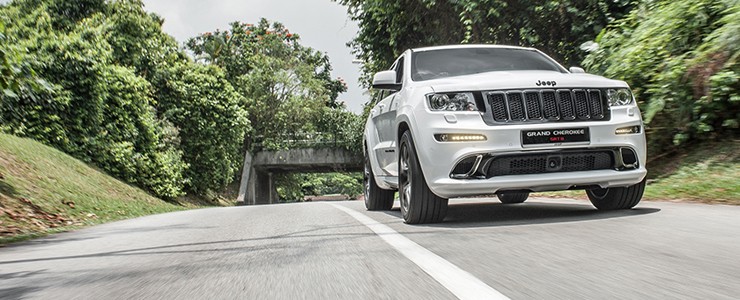 The Grand Cherokee SRT8 is probably the most aggressive 4x4 to be associated with the legendary Jeep, whose military involvement has earned it a spot as one of the world's most iconic off-roader.

The similarity, however, stops at the moniker because this Jeep was not made for the jungle. Instead, in SRT8 guise, it packs more muscles than one would ever need to venture on unbeaten tracks.

Under its sleeves are also some clever technologies, such as Multi Displacement System (MDS) which puts four of the eight cylinders to rest during idling or low engine load.

While we seldom associate off-road champions with tarmac burners, our market has seen an ensemble of these 'performance SUVs', specifically those from the people who loves bread, bratwursts and beer - think X5 M, G55 AMG, Cayenne Turbo, etc.

Hence, we question the relevance of this odd breed. They are bestowed with road skewing abilities but yet they aren't the best on tracks. Plus, body kits and lowered ride heights diminish their off-road prowess.

Consumer's behaviour/demand, however, isn't exactly based on relevance. For the well heeled, these may just be the perfect tools of commute.

Exterior

The SRT8 is one car you wouldn't want to see from your rearview mirror. The Cherokee's generous dimensions and squared-off edges are now edgier and more muscular with help from the extended bumpers and body-kit.


Up close, it feels like every replacement or add-on bit is there to emphasise on aggression. Blatantly wearing a slew of blackened trims, with additional 'bling bling' accessories such as the bumper integrated LEDs and chromed bumper scoops, the SRT8 is almost hooligan-like.
It has the ready-to-pounce-on-you type of attitude, and few cars can pull off such aggression at a standstill.
This model is no longer being sold by local distributors
Horsepower
:
350kW (470 bhp)
Transmission
:
8-speed (A)
Acceleration (0-100 km/h)
:
-
Fuel consumption
:
5.1km/L