---
The Peugeot 208 offers stylish looks, a quality interior and low running costs in a pocket-sized package.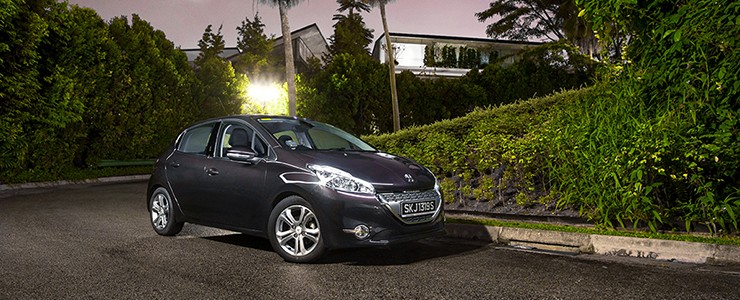 Small Peugeots, starting from the 205 to the 206 and then
the 207
, have always been a hit. Following the end of the 207's lifespan, everyone was expecting its successor to be one of the best small Peugeot in years.
Unveiled at the 2012 Geneva Motor Show, the Peugeot 208 is designed to rival the likes of the Ford Fiesta and Honda Jazz as well as many others in the compact segment with a blend of style and quality.
The Peugeot 208 signals the beginning of a new era for the French manufacturer and is a vast improvement over the car it replaces. Although the wheelbase is identical, exterior dimensions have actually shrunk, making the car smaller than its predecessor.
A two-staged approach was adopted for the 208 with two body types. The three-door and five-door are almost two separate cars and are designed to be different in order to appeal to a wider audience.
However, only the five-door will be available in Singapore. The 208 also joins Peugeot's lineup of diesel cars here with a 1.6-litre e-HDi variant.
Exterior
The Peugeot 208 has been given a significant overhaul over the outgoing 207 and the exterior is where we can see the most improvement.
Gone are the gaping, 'whale mouth'-like grille and a shield mounted badge. In turn, the Lion badge is now placed directly on the bonnet above the new look floating honeycomb grille, making the 208 look bolder and more stylish.
The old massively oversized headlights are also substituted with angular and more attractive units reminiscent of those on the 508, together with LED daytime running lights that serve as 'eyebrows'.
There's also a raised spine which runs from the bonnet up over the roof, giving the car a clean, muscular and chiselled look.
At the rear, there's a touch of classy design flourish with a chrome breakout by the back windows and a special design tribute to the brand with that of three lines of LEDs in each cluster of the tail lights - mimicking a lion's claw.
This model is no longer being sold by local distributors
Engine Type
:
4-cylinders in-line Turbocharged
Horsepower
:
69kW (92 bhp) / 4000 rpm
Torque
:
230 Nm / 1750 rpm
Transmission
:
6-speed (A) EGC
Acceleration (0-100 km/h)
:
11.8sec
Fuel consumption
:
23.3km/L