The V8 powerplant may have been replaced with a smaller bi-turbo V6, but the Porsche Panamera S remains a gem of a pleaser.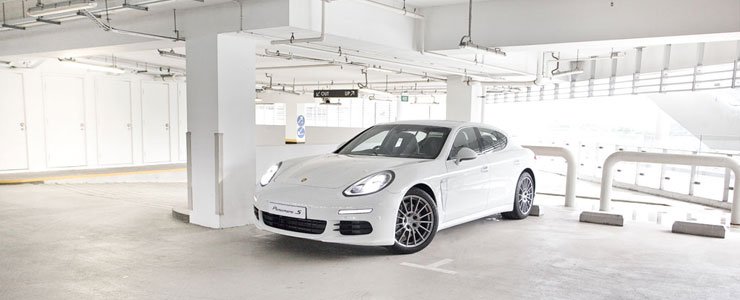 Those who have been making fun of the Porsche Panamera with their 911-stretched-limo jokes may just have to eat their words. While the first Panamera was launched in 2009 here, it was a blasphemy for Porsche fans, even though it was considered to be the long-awaited fruit of Porsche's 989 concept car from the late 1980s.
But the car didn't fail here, proving to be a popular car in a country where sedans are more generally more favoured.
Four years later, the facelifted version has arrived and, lo and behold, it has been downsized (ah yes, the most used word in the industry now). But is it for better or worse?
Up close and Personal
There are some appearance updates, both front and back, that differentiate the current model to the previous one. Tighter and more prominent lines, redesigned headlights and larger air intakes to better cool the engine now dominate the car's front, giving the Panamera a much needed refreshed look.
While it takes more than just a keen eye to spot the changes in front, changes to the rear are slightly more obvious. The rear windscreen has been widened while the wider spoiler and redesigned taillights have been installed for a sportier character. More notably, the rear license plate now receives a lower mounting position.
Just like its sheet metal, the well-tailored cabin carries forward the upscale feel, with a top notch fit and finish and impeccable attention to details - something you would expect from the Marque from Stuttgart.
Nothing falls short in here, not even space for all four occupants. Despite having a swooping roofline, there's ample head and legroom in all four seating positions, thanks to a lower seating position and an increment of 12cm of foot area.
The fact that the Panamera S has a reasonable 445 litres of boot space and an amazing 1,263 litres of capacity with the rear seats folded also means that the car is just as, or even more, practical than your average luxury saloon.
This model is no longer being sold by local distributors
Horsepower
:
313kW (420 bhp)
Transmission
:
7-speed (A) PDK
Acceleration (0-100 km/h)
:
5.1sec
Fuel consumption
:
11.5 km/L