That is, he can enjoy a comfortable driving experience, complete with modern Japanese motoring hospitality.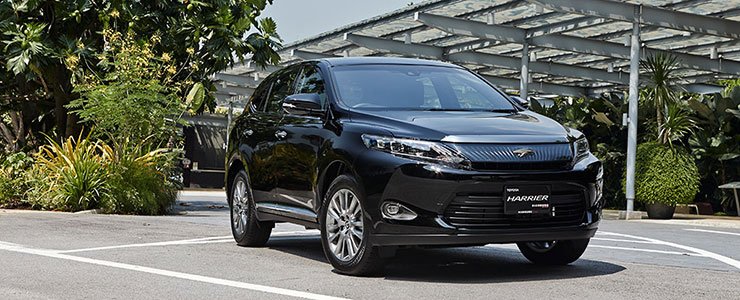 Back in the late 1990s when Toyota introduced its original Harrier, the Japan domestic market (JDM) equivalent and basis of the first generation Lexus RX, the marketers ran the tagline 'Wild But Formal'.
Supporting this peculiar catchphrase was an equally peculiar
television commercial
that features a lion man in a suit, supposedly of the strong and silent type. The ad is bizarre, but strangely entertaining if you're into weird Japanese ads.
Offbeat advertising aside, the Harrier did well because it was a significantly cheaper (by $25k - $50k depending on the dealer/deal) alternative to the Lexus RX300, the Harrier's higher class twin at Borneo Motors.
The current Lexus RX (the legit one), on sale since 2009 as a third generation model, hasn't been harassed by the Harrier in the local marketplace, because the Lexus' JDM alter ego had to soldier on as a second generation model and looked increasingly dated as the years rolled on.
Only in December last year, a decade after the debut of the previous Harrier, did Toyota release a successor.

Exterior
The new Harrier isn't based on the current Lexus RX. Instead, it employs the 2,660mm long platform of the RAV4/Vanguard, with the same 190mm ground clearance. The Harrier looks sharper than its two crossover cousins, with Toyota describing the exterior design as 'elegant velocity', which is about as meaningful as 'wild but formal'.
It's certainly a handsome machine, especially in business-like black, or better still, colour code 220 - Sparkling Black Pearl Crystal Shine. Said paint job is indeed shiny, and it sparkles.
Even though the chrome appliques above the unusual grille and along the lower portion of the doors look heavy-handed compared to how Lexus designers would apply chrome trim on a crossover, they're neither excessive nor offensive.
Inoffensive, too, are the two exterior elements on the Harrier that you won't find on today's Lexus RX - a wiper parked at the base of the rear windscreen (the Lexus' rear wiper is concealed under the top edge of the tailgate) and visible exhaust piping underneath the rear bumper (the Lexus' is tucked away).

Engine Type
:
4-cylinder in-line 16-valve DOHC
Horsepower
:
111kW (149 bhp)
Transmission
:
Super CVT-i (A)
Acceleration (0-100 km/h)
:
-
Fuel consumption
:
16 km/L