---
With its attractive sheet metal, capable handling and competitive pricing, this sassy new cat seems set to take on segment leaders.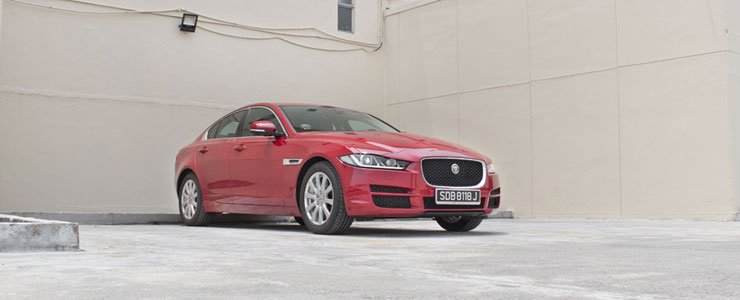 I love my espresso in the morning just after my cup of water. Admittedly, I also enjoy a stick of cigarette while having the lingering taste of freshly brewed coffee on my tongue. After which, I'll rinse my mouth, brush my teeth and start my day with the newspaper. Fresh start. New day. I love them.
The only problem is, what I just described to you rarely happens to me on a daily basis because I'm always in a mad rush in the morning. So whenever I'm not rushing (like the weekends), I'll treasure my fresh starts and new days more.
And that's exactly like the Jaguar XE. Rarely does Jaguar get a fresh start but it's clear that this car is an exceptional beginning for the British marque, a new day to take on challenges from strong competitors and a good time to achieve its mission of eliminating the segment leaders to top its class.
It won't be easy to topple these big guns, especially when Audi, BMW and Mercedes-Benz have controlled this segment with their
A4
,
3 Series
and
C-Class
respectively, but Jaguar - with its sassy new cat - seems set to take on this daunting task.
Exterior
The XE follows a look that extends through the Jaguar range. Like the flagship
XJ
and the XF, the compact executive sedan sports slim yet sinister-looking headlamps that sit nicely at the front of the sleek bonnet.
It's instantly recognisable as a Jaguar, but it also means that it can be a tad underwhelming to look at on first glance, considering there's little to differentiate it from its bigger brothers.
But at 4,686mm x 1,967mm x 1,416mm (L x W x H), the XE has the perfect dimensions and an unadulterated styling that will grow steadily on you. Its simple yet sharp crease on the bonnet drags past the A-pillar all the way to the C-pillar, making it an unpretentious design that's easy on the eye. These dimensions also mean that the XE is longer, wider and shorter than the BMW 3 Series.
The fact that the cat sits on 17-inch wheels further enhances its very humble character. While 18-inchers would have added aggression, this former size fits well without looking out of place.
This model is no longer being sold by local distributors
Engine Type
:
4-cylinder in-line 16-valve Turbocharged
Horsepower
:
147kW (197 bhp) / 5500 rpm
Torque
:
320 Nm / 4000 rpm
Transmission
:
8-speed (A) Jaguar Sequential Shift
Acceleration (0-100 km/h)
:
7.7sec
Fuel consumption
:
13.3km/L