---
For car owners that have the scrap yard looming in the near future, we offer up some ways in which you can maximise the value of your scrapped vehicle and return some cash into your pocket.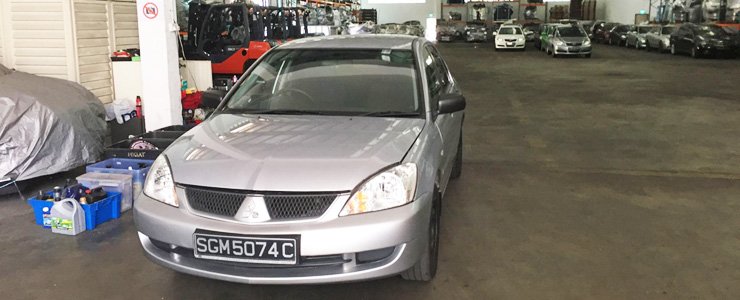 The harsh reality in Singapore is that after 10 years of owning a car, you have two distinct options - either cough out a hefty sum to renew your Certification of Entitlement, or take your car to the scrap yard.
For many car owners, the second option is the more common one. Here is some advice on how you can maximise the value from your scrapped vehicle.
Find the best quote for the value of your car using sgCarMart Quotz.
The truth is, there are numerous dealers and exporters offering car deregistration and scrapping services. But how do you know if you are getting the best possible deal? A simple phone call and a request for an estimated quote may be the best option you have.
Well, except it isn't.
sgCarMart Quotz
is a free service that sources quotations from a network of over 100 scrap yards and exporters. All you need to do is fill a simple
form
on the website, and Quotz will revert with the highest price from their network.
The offer comes with a flexible vehicle hand-over date (recommended to be within two weeks)
, minimal hassle and no obligation to accept, so you can be sure of a pleasant experience using this service.
Sell your used car parts and put a little more cash back into your pockets.

There are actually quite a few car parts that can be sold off for cash, especially if they are in good and working condition. This is especially useful to recoup that extra bit of cash when you inevitably have to say goodbye to your vehicle. You can post these items up for sale in the
MyCarForum Market Place
.
How do I go about selling used car parts?
There are two likely sorts of people who will buy used car parts. The more common group are people looking for replacement for spoilt components, especially owners whose cars have one or two years left, and are on a limited budget. The other group are those looking to upgrade parts of their car.
You can of course visit your regular workshop and see whether they are willing to buy in your parts. Alternatively, you can check out our
Motor Directory
for a comprehensive list of tyre and rim dealers, performance workshops and car audio installers to see if they can take in your used car accessories. These workshops may either be looking for extra stock, or perhaps on the lookout for specific parts requested by their customers.
Another option is to sell directly to another car owner. For this, you can check out the
Marketplace
section of
myCarForum
, the official forum of sgCarMart.com that has over 240,000 unique visitors every month. There is no fee involved if you are posting the item as a direct owner, so consider posing your items for free now!
What car parts can be sold?
a.
Car Tyres
Perhaps you had to change your tyres recently as the previous ones were worn out. Especially for 17-inch and larger sized performance tyres, you can definitely recoup some money here (assuming the tyres have more than 70 percent of tyre thread left).
A 17-inch set of performance tyres should be able to fetch you about $140 or so. However, do note that you still need to replace them with a set or worn tyres. The market practise is that the person buying your tyres will have to pay for the labour cost, whilst a set of worn tyres should set you back around $40. So that still nets you a profit of $100.
b. 
Rims
These can be one of the most valuable car parts, especially if you forked out money for an upgraded set. Depending on your brand, model and size of the rims, rims can fetch anywhere from a few hundreds to even a couple of thousands dollars
If you have your original set of rims, that would be ideal. Alternatively, you can indicate to your buyer to trade his or her existing rims with you. Labour costs should be about $30.
c.
Cosmetic parts
Ranging from side skirts, spoilers, front grille, boot lip, mirror covers, etc, there are many aftermarket cosmetic parts that can be converted to cash.
As most items are car model specific and the demand for such parts will vary according to individual taste, such parts may be a little more challenging to sell quickly. However, especially for high end car models, you can easily fetch thousands of dollars from selling these parts.
Labour charges will vary according to the parts and labour required, but should not cost more than $100. For simple jobs, you can even do it yourself.
d.
Lighting and lamps
The demand for head lights, taillights, Daytime Running Light, HID light bulbs and other lighting parts is usually quite high - many people will be looking for such parts as replacement for spoilt parts on their own cars.
Depending on the car model and part you are selling, prices will start from $100 upwards. It's okay to scrap a car without its lights - taking into consideration the typical $30 labour charge, you can still make a small profit.
e. 
In-car camera and electronics
Your in-car camera is something that can definitely fetch you some cash.
For high end 2-channel HD camera, you can get about $200-$300. For basic models, you can get about $70 or so. Other electronics that can be sold include third-party GPS devices, reverse camera, hands-free kit, push start system, and etc.
f.
In-car entertainment
If you are an audiophile, you must have upgraded your car audio systems. Head units, amplifiers, speakers, display monitor and audio cables, all of these items fetch good prices in the resale market.
As the head unit does not affect the scrap value of the car, it would be wise to take it out and sell it off, especially if you have a high-quality one. Dekitting your infotainment unit will cost about $30-50 at most workshops. It's okay to scrap a car without its head unit.
g.
Racing equipment and performance parts
Air filters, air intake system, exhaust system, strut bars, coilovers, brake kits racing meters, voltage stabilisers and other motorsport equipment can be converted into cash after they are uninstalled from your car.
It would be wise to take into consideration the cost for removing parts from your vehicle - if labour costs more than the parts, it may be worth reconsidering. We will suggest deciding on what parts you want to remove, and head down to your workshop and get it all done in one go.
With all that said, a car, with all its various parts and equipment, definitely still has value at the end of 10 years. It would be prudent of you to extract as much value as you can from your car before you finally have to part ways with it.
Here are some related articles that might interest you
7 things to know before scrapping or exporting your car
How to transfer vehicle ownership or deregister a car online through LTA
Sellers of eight to 10-year old cars can get help from sgCarMart Quotz 
For all car owners, here's how you get more money from selling your car
Owners of 2014 to 2016 cars, its prime time to switch to a brand new ride!