Hundreds of Uber's unhired cars have hit the used car market since the app shut down. Here's what you need to know in a nutshell and why you should care.
The Story:
Since the Uber app was shut down, hundreds of unhired cars from a massive fleet owned by Uber have started appearing on the used car market.
Key facts you must know:
With Uber exiting the South East Asian market, rival Grab has announced that it would not acquire Lion City Rentals' (LCR) fleet.
As a result, many of the unhired cars from LCR have hit the used car market, mainly Mazda 3 sedans and Honda Vezel crossovers.
These cars, practically new with 50km clocked or less, are being sold at a loss of between $10,000 and $20,000 each.
Why you should care:
For buyers, this represents a good opportunity to buys almost-new cars at a significant discount.
For example, a Mazda 3 1.5A with just 40km on the clock can be found for $74,800, which translates to a depreciation of $7,680/yr. In comparison, a brand new Mazda 3 1.5A from agent Trans Eurokars will cost $90,800, with a depreciation of

$8,300/yr. That's a 17.6% discount compared to a brand new model.

At the same time, this influx of almost-new cars is likely to suppress customer demand for brand new cars. This will momentarily contribute to the recent downward trend in COE prices.

In fact, a depreciation of $7,680/yr is comparable to the depreciation on many cars on the second hand market with renewed five-year COEs right now.
What you can do:
If you are in the market for a new car, it's definitely worth checking out these LCR fleet cars being sold in the used car market. For example, the next cheapest brand new compact family sedan comparable to the Mazda 3 is the Hyundai Elantra 1.6 GLS (priced at $78,999, with a depreciation of $7,300), as well as the Toyota Vio 1.5 E Grade (priced at $84,888, with a depreciation of $7,800 a year).
Come July, some new cars might also become more expensive due to the new particulate-matter ruling. Thus, some buyers may turn their eyes to the used car market, and these cars are good value-for-money purchases.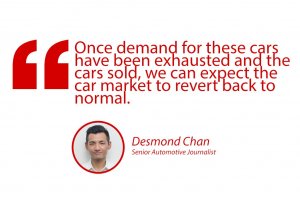 Editorial Reaction


LCR's rapid and aggressive fleet expansion has always been a cause of slight concern, with supply usually outstripping demand. Now, with the acquisition of Uber by Grab, LCR are facing the unfortunate consequences of its aggressive approach in the past. With its fleet cars being sold off to used car dealers, it appears the company is doing its best to cut its losses. This should be a lesson in restraint and conservative purchasing, especially for such businesses looking to disrupt industries.
Of course, the influx of these almost-new cars with definitely affect sales of brand new cars from the various Authorised Distributors (AD). Customers looking for a brand new car will likely seek out these attractive (but limited) deals on offer.
But ultimately, this will likely be a temporary blip in the overall car industry - once demand for these cars have been exhausted and the cars sold, we can expect the car market to revert back to normal. And while the ADs may feel the pinch in the short term, it is unlikely to affect any kind of long term strategy.
Related Categories
Recommended Merchants(View all)