This may be the smallest model yet from Infiniti but it's undoubtedly the most attractive too.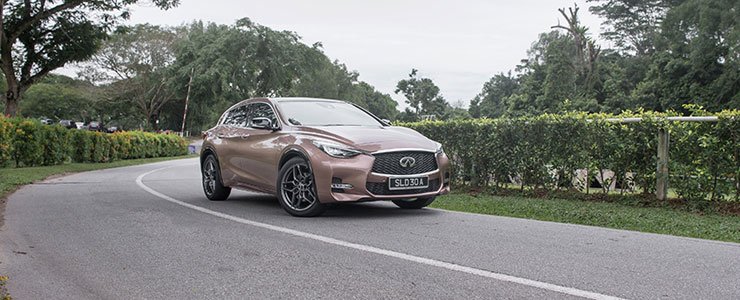 There are two misconceptions here. Number one, the Infiniti Q30 that you see here may resemble a crossover but it isn't. That would be the job for the
Infiniti QX30
that made its global debut at the Los Angeles, as well as Guangzhou Motor Shows last year.
Number two, it may wear the Infiniti badge but it's not exactly an Infiniti at heart. It'll be more accurate, instead, to say it bears Mercedes-Benz's DNA.
Hold your horses, dude. I'm confused
Dubbed as a premium active compact, the Q30 is the result of the strategic partnership the Renault-Nissan Alliance sealed with Daimler - Mercedes Benz's parent company. The giant companies first started its cooperation back in 2010.
As such, the Infiniti Q30 is based on the same MFA platform as the A-Class, the B-Class, the CLA-Class and the GLA-Class, all of which come under Merc's New Generation Compact Cars (NGCC).
Woah. I really didn't know that. Tell me more
Well, we can tell you how we honestly feel about its looks.
The Infiniti Q30 is seriously curvy, with a sheet metal that appears more like art than car. In a way, it's almost unnecessary because it's the kind of design that could go horribly wrong. Oddly, and thankfully, it doesn't.
As a result, the premium hatch from Nissan's luxury arm looks neither like it's trying too hard nor does it look anything close to painful. In fact, it's a beauty in our eyes.
At 4,425mm x 1,805mm x 1,480mm (L x W x H), the car you see here is actually longer and a tad wider than the
Mercedes-Benz GLA-Class
, which makes you wonder why on earth this would go against the likes of the
Audi A3 Sportback
, the
BMW 1 Series Hatchback
and the
Mercedes-Benz A-Class
.
But if you were to put into consideration the aforementioned QX30, then the $191,800 (as of 24
th
October 2016) Q30 makes absolute dollars and sense.
In that aspect, there's some oddity in the Q30, but that's exactly why it's so appealing.