The Panamera Turbo S E-Hybrid delivers monstrous straight line performance, in addition to consummate luxury and comfort.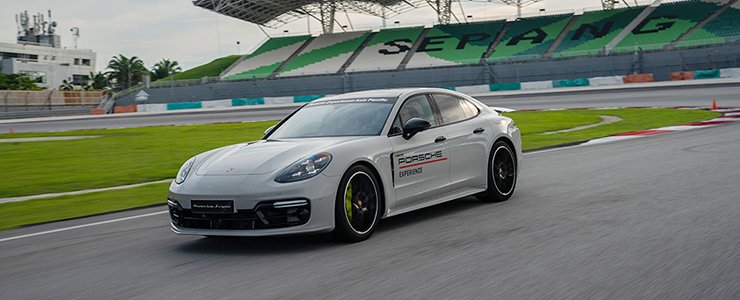 The
Porsche Panamera
is a car that's deeply impressive, combining sharp looks and a luxurious cabin with a drive that's comfortable yet dynamic when you want it to be. Sitting atop the lineup is this flagship model - the Porsche Panamera Turbo S E-Hybrid. 
What am I doing driving a plug-in hybrid four-door luxury limo around Sepang? Honestly, I can't give you a straight answer. But, there is admittedly something intriguing about the car that makes you want to drive it.
Power up


Get into the car, and you're immediately struck by the cosiness of it all. This is a full-blown luxury limo. The cabin is comfortable and high-tech, with all manner of modern amenities including massage seats, power sunblinds and a Burmeister 3D surround sound system.
The car that I drove also came equipped with Porsche Rear Seat Entertainment, which gives the rear passengers a 10.0-inch high-resolution touchscreen each to keep themselves entertained.
It's immediately quiet, too. You feel cocooned from the noise outside (and there's a lot of it, especially since there are two
GT3s
sitting in the pit lane).
Pumped up kicks


Let's be clear of one thing - the Panamera packs a monstrous mallet of a powertrain. The hybrid powertrain combines a 542bhp 4.0-litre V8 biturbo petrol engine and a 100kW electric motor to produce a combined output of 671bhp and, get this, 850Nm of torque.
This means that this bulky 2.3-tonne car rampages from 0-100km/h in just 3.4 seconds, which is frankly absurd. According to Porsche, the performance-oriented boost strategy of the powertrain was developed directly from the system used in the
918 Spyder
super sports car.
However, beyond the insane straight line pace, the Panamera certainly feels out of place among the various
911s
and
718s
sitting in the pit lane.
Dynamically, it certainly cannot be compared to the rest of Porsche's cars in the pit lane, what with the long wheelbase and significantly heavier weight. You have to brake a lot earlier, there's understeer in just about every corner, and all in all, driving aggressively isn't as rewarding as the other cars. It's also surprisingly serene compared to the screaming and wailing of the other models. 
That's not to say that it doesn't cope well with the Sepang track. On the contrary, it's surprisingly composed and capable, tackling corners with agility that will surprise you given its size. Driven hard, it actually doesn't feel as big and long as it actually is. There's also tons of grip, thanks to the four-wheel drive system. 
Power down


As I cruise back into the pit lane, I'm left a little perplexed about this car. The Panamera is a fantastic road car - elegant, luxurious and impeccably comfortable - but what are you going to do with 850Nm of torque on normal roads? This car is a luxury limo infused with super sport DNA, which is slightly confusing.
Then again, this car is supposed to highlight the pinnacle of technological achievement in the Panamera, and it certainly does that. You've got ridiculous pace and surprisingly sporty handling, but this is still a car that you can drive up to 50km using just the electric motor. 
Electromobility is on every manufacturer's mind going forward, so a car like the Panamera Turbo S E-Hybrid is really to showcase what Porsche is capable of. And by the looks of it, the brand is more than well-prepared for the future. 

Engine Type
:
V8 Twin-Turbocharged
Horsepower
:
404kW (542 bhp) / 4500 rpm
Torque
:
770 Nm / 6000 rpm
Transmission
:
8-speed (A) PDK
Acceleration (0-100 km/h)
:
3.4sec
Fuel consumption
:
34.4 km/L