The Hyundai Kona Electric points to a cleaner and greener future.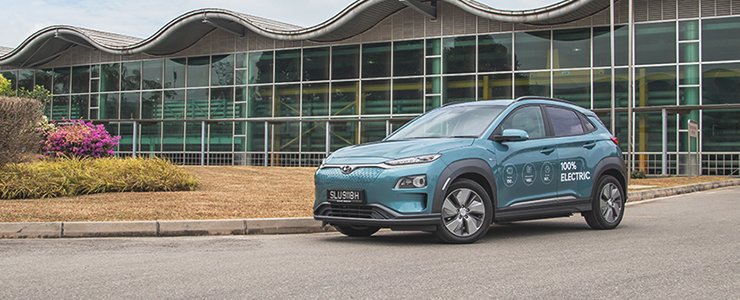 The
Hyundai Ioniq Electric
is a car that we really like - it's green, futuristic and forward-looking, yet still surprisingly familiar and easy to get to grips with. It's a car that definitely seems primed to usher in an electrified future.
Now, Hyundai has launched its second all-electric model in Singapore - the Kona Electric. Will it be similarly impressive and accessible?
Looking so blue


As the name would suggest, the Kona Electric is an electrified version of the Kona compact crossover we drove last year. Visually, there are some differences, the key being the closed-grille front fascia. The rest of the exterior of the car is the same - it's a sharp-looking and handsome compact SUV.
Inside is where there's a notable difference - everything's a lot more white and blue, for one. The centre console is also different - in place of a traditional gear shifter, the Kona Electric has buttons for selecting the transmission gears. The cabin does use quite a lot of plastics, so it can feel a little tacky.
That said, the Kona Electric packs good amounts of equipment. You have Apple CarPlay, Android Auto, Qi wireless charging and ventilated electric front seats. There's also ample safety equipment, including Blind-Sport Collision Warning and Rear Cross-Traffic Collision Warning. 
Driving green


Initially, the driving experience can be a little awkward. The front end is notably lighter compared the petrol variants we drove. When you turn the steering wheel, the car changes direction quite rapidly, but in a way that's slightly strange. 
We put this down to the car's weight. Overall, it's actually heavier than the petrol variants - 39kg heavier than the
all-wheel drive 1.6
and 185kg heavier than the
front-wheel drive 1.0
. However, because it's lighter at the nose, the overall weight distribution means that there's a disconnect between the front and rear axles that takes some getting used to. 
With the Kona Electric, you actually have a choice of two electric powertrains - a 100kW electric motor in the Standard, and a 150kW electric motor in this Standard (Long Range) variant that you see here. There are two key differences - more power in the Long Range variant, as well as additional range (obviously). 
With 395Nm of torque, the car accelerates easily and effortlessly. Select Sport mode, and the acceleration is even more immediate and aggressive. As far as an electric powertrain is concerned, it'll do everything that you really need.
Using the paddle shifters, you can select from three different regenerative braking settings. From our experience, you're best served to select Level 1 when driving at highway speeds (which allows you to coast along when you're off the accelerator), and a higher setting when driving at lower speeds (to maximise energy recovery).
Seeing into the future


The Kona Electric is impressive, but not as immediately accessible compared to the Ioniq Electric. Jumping into the Ioniq was instantly familiar. With the Kona, the transition doesn't feel as seamless. Part of it is packaging - with its higher riding height and bigger overall footprint, it takes a little time to adjust to the unique dynamic behaviour of the Kona Electric.
However, once you get used to the car (and adjust your driving behaviour accordingly), the Kona Electric makes a lot of sense. We managed to achieve 7.6km/kWh, with an estimated total range of 475km. That's extremely close to the car's rated 482km range, so if driven lightly, you should expect to be able to go the full claimed distance.
Of course, there's the issue of price, and here's where it gets a little tricky. This car you see here, which includes the sunroof, costs a whopping $162,999 (as of 4 
March 2019). That's $26,000 more than the Standard variant. 
In our minds, it's hard to justify that price difference. After all, Singapore really isn't that big, so the extra range probably won't be necessary. The Standard model has a range of 312km, which will certainly meet all your daily commuting needs assuming you aren't planning to drive up to Kuala Lumpur on a single charge.
Additionally, the standard-range battery takes six hours and 10 minutes to fully charge on a standard AC port, compared to nine hours and 35 minutes for the long-range battery.
Thus, if you really want a Kona Electric, we suspect the Standard model, costing $136,999, will fully meet your needs.

Engine Type
:
Permanent Magnet Synchronous Motor
Horsepower
:
150kW (201 bhp)
Transmission
:
Single speed reduction gear
Acceleration (0-100 km/h)
:
7.6sec
Fuel consumption
:
unknown