The 1.0-litre Hyundai Kona may be a small-engined SUV, but it has a big heart with a lot of love to give.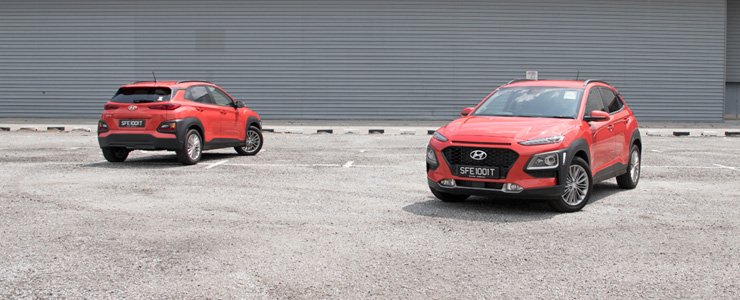 The Kona that you see here, clad in a vivid lava colour, is a compact Sport Utility Vehicle (SUV) from Hyundai that competes against popular models like the
Honda HR-V
and the
Toyota C-HR
.
But unlike it competitors, the Hyundai Kona comes in either the all-wheel driven turbocharged
1.6-litre
that's mated to a seven-speed dual-clutch automatic transmission or the front-wheel driven turbocharged 1.0-litre three-cylinder that's nicely paired to a six-speed manual gearbox.
Considering the stiff competition it faces, the Hyundai Kona 1.0-litre that's being tested here isn't the cream of the crop, but it is nevertheless nothing short of impressive.
And mind you, it isn't just because it's a manual-transmissioned SUV that makes it so.
Hearty handling
Instead, it's the way the Kona dances on the tarmac with such high levels of agility yet in a very carefree manner that makes the compact SUV such a lovable car to pilot.
As a result, you tend to forget that it isn't a warm hatch or a compact sedan you're driving. You could be driving this round a bend at speeds that are higher than you should and the Kona will still be able to hold its own with minimum roll and maximum amusement.
The very fact that its suspension setup isn't overly wobbly yet maintains to be comfortable to drive around town makes this a compact SUV that doesn't oppose to being chucked around with a tinge of hooliganism.
Of course, this isn't a sports car we're talking about - its 1.0-litre three-cylinder powerplant that sends out 118bhp and 172Nm of twisting force to the front wheels will see to that. But you don't need a fast and powerful car if fun-loving is what you're looking for in a vehicle.
Really? What do I need, then?
What you need is an attractive car like the Kona that sports a positive personality with its zippy drivetrain and an easy-going disposition with its manual slick gearshifts.
No guesswork here is needed, despite you having the need to change gears manually. Gearshifts can be done so effortlessly and directly thanks to the smooth and slick feel of the six-speeder. Every cog slots in exactly where you want it to be, when you want it to be.
But is the 1.0-unit engine really enough?
Well, that highly depends on your perception of 'being enough'. This engine can be a tad underwhelming at lower revs and is best to maintain the needle at 2,000rpm at the very least to keep it going.
But it isn't at all a bad thing to us. Like most manuals, shifting down a cog is absolutely necessary if you're attempting to overtake on highways but otherwise, you can get up to speed and leave it at the sixth gear and the Kona will happily pot along like its 1.6-litre variant.

You got me on the drive. Its design, however...
Fair enough, a design of a car can be very subjective. But in our eyes, the Kona is by no means ugly. In fact, the Kona is nothing short of attractive. Have the car parked between a Honda HR-V and a Toyota CH-R, and the Hyundai will start to shine.
We can't be certain if that is due to the Honda and the Toyota appearing at every corner we turn, which makes you feel uninterested at the sight of one, but one thing is for sure: The Kona's vigorous frontal appearance, matched with strikingly bright colours (Acid Yellow on the 1.6-litre and Tangerine Comet on the 1.0-litre), is a sure way to get any casual pedestrians to take a second glance at the car.
And it's the same for its cabin, too. You get a logically laid out dashboard, a comfortable driving position and ample space for five. Hell, you can even opt for similar-coloured trimmings and stitching to match the body!
I like where this is going, so convince me more
Think about it this way, most buyers will not attempt to drive the Kona with enthusiasm. It is after all a car that prioritises comfort and space over sportiness and aerodynamics.
But you cannot deny the sense of honesty in this car. It doesn't try to be something it's not - in this case, not a sports car when it's essentially an SUV. Rather, we'd like to think that its lively behaviour is an added bonus of sorts.
Needless to say, when it comes to added bonus, it's really hard to overlook its pricetag of $83,999 (as of 26 March 2018)
More importantly, it genuinely feels like a well-thought out product and not just the usual and lazy formula of creating a smaller
Hyundai Tucson
or a mini
Hyundai Santa Fe
for the sake of a business case.
And mind you, you'll have to bear in mind that we're not just saying that the Kona is impressive just because it's a manual-transmissioned SUV.
This model is no longer being sold by local distributors
Engine Type
:
3-cylinder 12-valve DOHC Turbocharged
Horsepower
:
88kW (118 bhp) / 6000 rpm
Torque
:
172 Nm / 4000 rpm
Transmission
:
6-speed (M)
Acceleration (0-100 km/h)
:
12sec
Fuel consumption
:
18.5 km/L