There's no denying the luxury, refinement and off-roading ability the Rolls-Royce Cullinan affords.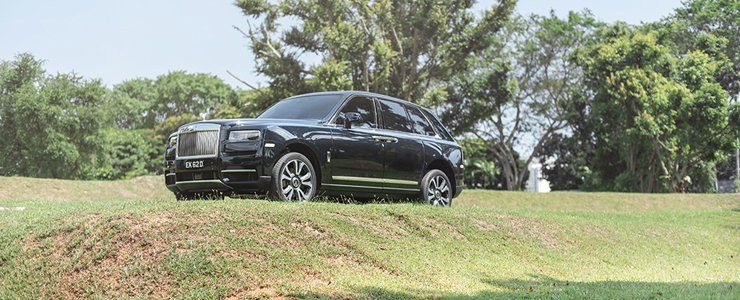 If you're returning to your holiday home in Miami in March, you'd of course want your butler to ready your
Rolls-Royce Dawn
. But if you're planning a ski trip to Aspen in December, you're going to want him to gear up the 
Cullinan
.
An aptly named diamond in the rough
Named after the largest diamond ever discovered, which now resides in the British Crown Jewels, the Cullinan was born from a desire to offer the world's wealthiest people what they couldn't find in the SUV market - the Rolls-Royce of SUVs.
But more than just a practically-shaped pinnacle of luxury, the Cullinan was also created to be able to really take on the rough stuff when necessary.
It all begins with the all-aluminium architecture on which it sits on that Rolls-Royce says delivers extraordinary car body stiffness for exceptional 'best-in-class' functional performance on rough terrain whilst offering better ride comfort.
The Cullinan is the second Rolls-Royce to employ this scalable platform, named Architecture of Luxury, after the new
Phantom
.
But Rolls-Royce has added a new double-wishbone front axle and five-link rear with a redesigned self-levelling air suspension whose air struts have a bigger volume for miraculous bump absorption, along with four-wheel steering plus a four-wheel drive system for the first time ever in a Rolls-Royce.
These ensure that whatever makes the car great on-road makes it great off-road, too. On a secluded, hilly area off Queenstown's beaten track, the Cullinan is effortless enough over loose rocks and steep inclines but I'm sure we were only skimming the surface of what it can really do.
But bearing in mind that the Cullinan we tested costs about $1.7 million, I decided it was best not to push it. On the road, it doesn't quite offer the hauntingly beautiful ride of the Phantom, but it was never meant to, according to the British luxury carmaker.
The Cullinan was instead created with a different, more adventurous character in mind. Still, thanks to the standard self-levelling air suspension, creamy twin-turbo V12 and satellite-aided ZF eight-speed automatic, it still delivers the sort of silken experience expected of a million-dollar Rolls-Royce.
And to that end, it is the quietest, most refined SUV I have ever driven and probably one of the most relaxing cars to drive long distances. Surprisingly easy, too, given its size.
Luxury redefined
To match the way it moves, Rolls-Royce have given the Cullinan a cabin that would make even the
Bentley Bentayga
feel like a bit of a bargain bin.
Our test car came fitted with nearly $500,000 worth of customised goodies, such as a panoramic glass roof, front massage seats, blue trimming, lavish wood finishing, rear curtains and rear entertainment screens.
And pretty much everything that could be powered is powered, including the closing of the front and rear-hinged back doors.
It's all mighty impressive and you definitely feel like you're travelling first class but the few inconsistent panel gaps are slightly disappointing for something that costs this much.
There are two rear-seat configuration options to choose from - Lounge Seats, which is what's found in our test car, or Individual Seats, which comprises two individual rear seats separated by a fixed rear centre console.
The former is the more family-friendly setup, while the latter, which incorporates a drinks cabinet with Rolls-Royce whisky glasses and a decanter, as well as champagne flutes and refrigerator, will impress even the most imperious business partners.
And to ensure that you can carry just about whatever you want and wherever you go, our test car's Lounge Seats option offers  a standard 560 litres of space, growing to 600 litres with the parcel shelf removed.
Once the rear seats are folded flat, you get a loading length of 2,245mm and total load capacity of 1,930 litres.
Imposing by nature
More importantly, what's the point of owning the most luxurious SUV in the world if it won't turn heads? With the Cullinan, you can be rest assured that it will.
It rolls on massive 22-inch wheels, is 200mm longer than the Bentayga and is 90mm taller and 350mm longer than a
Range Rover
. There's just no doubting the dominating silhouette that it cuts.
To be honest, I wasn't all that impressed when I first saw images of the Cullinan but in real life, it's something else. And if you can't appreciate how it looks, you'll definitely be in awe of its sheer size.
If not, there's still the impressive way that it blends utility, ability and luxury that no one really expected a Rolls-Royce to. It's already made up a third of the company's sales last year and Rolls-Royce is confident it'll do so again this year.
Expect, then, to see it lining the roads of the world's richest hotspots in the near future.

Engine Type
:
V12 Twin-Turbocharged
Horsepower
:
420kW (563 bhp)
Torque
:
850 Nm / 1600 rpm
Transmission
:
8-speed (A)
Acceleration (0-100 km/h)
:
5.2sec
Fuel consumption
:
6.6 km/L