---
Not only has the fuel consumption been significantly lowered, the new BMW 528i manages to retain its pleasurable driving characteristics worthy of the Bavarian badge.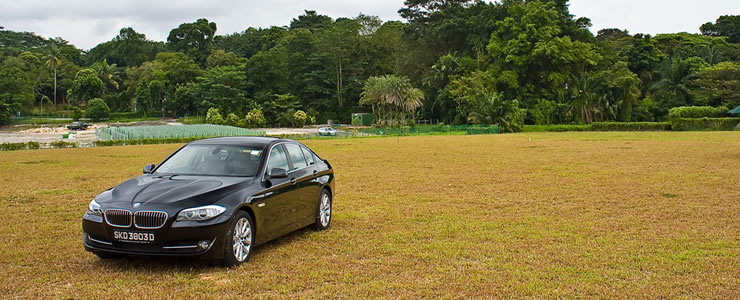 Since the first 5 Series manufactured in 1972, the executive sedan represented a significant percentage of BMW's profits, although the 3 Series retains to be the Bavarian carmaker's best-selling model. But it wasn't until the fourth generation of 5 Series, codenamed E39, when the car was widely praised in all aspects, making the mid-sized sedan one of BMWs most successful cars. To date, the 5 Series has a total of six generations, all sold in both sedan as well as touring body styles.
Today, to say that BMW gives the utmost attention on sustainability by packing its cars layer upon layer with efficiency to form a premium car without compromising on sheer driving pleasure is an understatement. And this can be seen with BMW's downsized 5 Series Sedan 528i. From smaller four-cylinder engines to hybrid or electric power, downsizing is the new "big" among luxury cars - mainly because of new environmental regulations that have forced luxury carmakers to work on a new set of values: smaller and more fuel-efficient.
So BMW has taken the leap of bringing in a new 2.0-litre turbo four with the key aim of reducing fuel consumption and emissions. Unlike the 520i which supersedes the 523i, the 528i is a standalone. Perhaps the Bavarian marque is among the growing number of carmakers that thinks it's time to stop judging engines by the number of cylinders they have. And this latest 5er shows it on paper. Just a glance at the 528i's specs and you'll immediately realise how promising the turbo four is in terms of its output.
Exterior
Visually, the entire sheet metal is still clean and chiselled. The 528i resembles the rest of its 5er siblings, with its prominent flanks and kidney grille that couldn't possibly be mistaken for anything but a Bimmer.
To simply put it, there is a reassuring classicism in the artfully shaped cut lines that are part of the graphic composition. Flowing lines with long hood and short rear deck, and a futuristic-looking front-end treatment all add up to form a car that's big without appearing too bulky.
Measuring at 4899mm x 2094mm x 1464mm (L x W x H), the Bavarian product is a tad heavy, and is noticeably heavier than the Audi A6 as well as the Saab 9-5. Tip to tip, it is also taller than the A6 but just not as long as its German peer.
Despite having different body styles and engines since the 5 Series Sedan was launched here in 2010, the car has successfully managed to retain its visual engagement such as the delightful lush psychedelic white Corona daytime running rings that shine so joyfully they border on maniacal. Its delicate and uncluttered lines, following curves and sophisticated detailing give the car an aura of athleticism that is unrivalled.
This model is no longer being sold by local distributors
Engine Type
:
4-cylinders in-line TwinScroll Turbocharged
Horsepower
:
183kW (245 bhp) / 6500 rpm
Torque
:
350 Nm / 4800 rpm
Transmission
:
8-speed (A)
Acceleration (0-100 km/h)
:
6.2sec
Fuel consumption
:
15.3km/L