These family sedans aim not only to provide the basics for the man and his family, but also to edge up in other areas such as efficiency, comfort, and charm.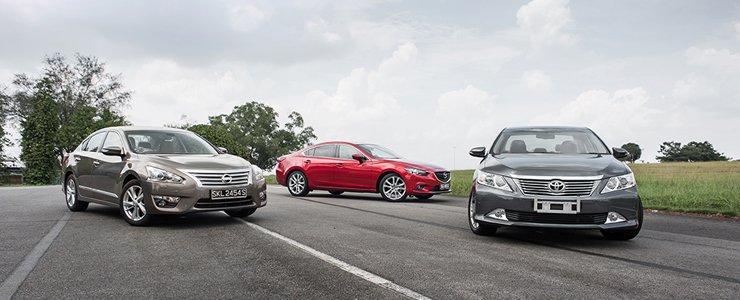 We'll start by saying that each of these family cradles are separated from their predecessors by dozens of changes - all of them promising to outdo each other in the race for modernisation.
For starters, the new
Nissan Teana
comes with 'zero-gravity' seats. If the name itself doesn't impress you sufficiently, the design process should - they were inspired by NASA's (the very people who send humans to space) research in seating and posture, and claims to reduce muscular and spinal loads. Space-age seats on earthly commute - how cool is that?
The
Mazda6
, too, does not shy with its concoction of cutting edge technologies - particularly in the field of drivetrain. Besides a capacitor-based energy recuperating system (known as the i-Eloop), it also has an auto start/stop system that works faster than you can blink your eyes.
The
Toyota Camry
, too, has several tricks up its sleeves in the name of efficiency. It gets its regular dose of fuel saving techs, such as Variable Valve Timing (dubbed VVT-i), as well as an array of adaptations - such as covered under body, aero fins, etc.
It seems nowadays, family sedans need to do more than just ferrying five in style and comfort.
Exterior
Despite being conceived for similar motives, each of the trio took on very disparate styling languages. Being the latest of the lot, the Teana bear very similar cues found in its younger sibling - the Sylphy. On first look, it was almost as if the mid-sized sedan has been blown up to proportions.
But no, we aren't complaining. The new Teana portrays an image that is more graceful than its forebearer. The curvy contours coupled with the larger dimensions give it an almost majestic look among the trio.
On the contrary, the Camry is more 'straight forward' in terms of styling. With a bolder, more angular profile, it does with less curves than any of the other duos. Hence, it is safe to say that the Toyota looks the most muscular of the lot.
This time round, we left the best-looking to be mentioned last. While aesthetics can be very individual, the Mazda6 hit a sweet spot with a pure sense of stylishness. The marketing people did not overpromise - a clean, yet strong wave of motion is clearly demonstrated by Mazda's family sedan, even at standstill.
And there's no shying that much credits go to the
Takeri Concept
, which the Mazda6 heavily borrowed its design cures from. And we think that's one of the reasons why it is the eye-turner of the group.
30 Mar 2017
The new Mazda6 undergoes a subtle update to its driving dynamics, safety features and styling while retaining most of its well-loved traits.
Read more
This model is no longer being sold by local distributors
Engine Type
:
4-cylinder in-line 16-valve
Horsepower
:
138kW (185 bhp) / 5700 rpm
Torque
:
250 Nm / 3250 rpm
Transmission
:
6-speed (A) Activematic
Acceleration (0-100 km/h)
:
8.1sec
Fuel consumption
:
15.2 km/L
This model is no longer being sold by local distributors
Engine Type
:
4-cylinder in-line DOHC
Horsepower
:
127kW (170 bhp) / 6000 rpm
Torque
:
234 Nm / 4000 rpm
Transmission
:
Xtronic CVT (A)
Acceleration (0-100 km/h)
:
10.1sec
Fuel consumption
:
13.3 km/L
This model is no longer being sold by local distributors
Engine Type
:
4-cylinders in-line DOHC Dual VVT-i
Horsepower
:
133kW (178 bhp) / 6000 rpm
Torque
:
231 Nm / 4100 rpm
Transmission
:
6-speed (A)
Acceleration (0-100 km/h)
:
9.7sec
Fuel consumption
:
13 km/L