---
Love or hate its looks, the new Jeep Cherokee is one versatile ride that rocks both metropolis and trail.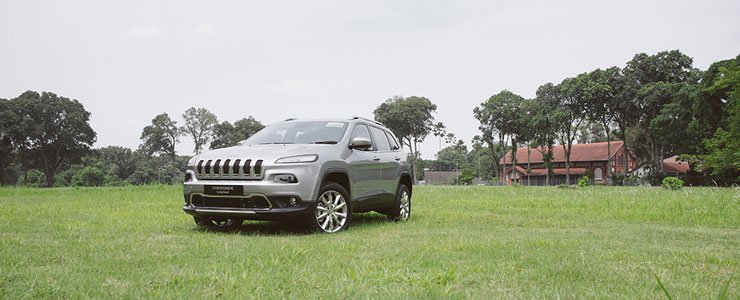 With a 4X4 four-wheeled drive and transmission modes that make driving through conditions with mud and snow a breeze, cars from Jeep need little introduction as off-road warriors that espouse the American brand's 'go anywhere' heritage.
With the return of the Jeep's mid-sized Cherokee Limited SUV to its model lineup in mid-August, the brand has softened its approach to whet increasingly urban appetites.
The new 2014 Jeep Cherokee now boasts some radical new looks (only natural for an all new car) and a more efficient 2.4-litre naturally aspirated engine paired with a ZF-sourced nine-speed automatic gearbox for greater fuel economy.
Available here in two variants, the Cherokee Limited is more focused on comfort, while the off-road focused Cherokee Trailhawk has been setup at a $10,000 premium for enthusiasts to rule the trails.
Exterior
Visually, the Cherokee is an acquired taste, with its triple-deck headlight design and aerodynamic update on the traditional Jeep seven-slot front grille being the main point of contention.
For some, the provocation of the car's front end may be a deal breaker, but in the same way that there are people who look better in person than in photographs, this car is one of them.
At 4,624mm long, 1,859mm wide and 1,707mm tall, the Cherokee is a big car, but it is also very well-proportioned and well-finished with all the right curves. Built on the Fiat Group's modular platform using high-strength steel, the car looks solidly put together with muscular lines giving it a commanding presence on the road.
Unlike the
Volvo XC60
and the
Range Rover Evoque
that it is positioned against here in Singapore, the Cherokee doesn't possess the seductiveness of a sloping roofline. But thanks to features like LED daytime running lights and a muscular stance with protective lower body, the car emanates a sophisticated ruggedness that would suit the outdoor loving city slicker.
This model is no longer being sold by local distributors
Engine Type
:
4-cylinder in-line Multiair
Horsepower
:
130kW (174 bhp) / 6400 rpm
Torque
:
229 Nm / 3900 rpm
Transmission
:
9-speed (A)
Acceleration (0-100 km/h)
:
-
Fuel consumption
:
11.4km/L