---
A new gearbox amplifies the high style Range Rover Evoque.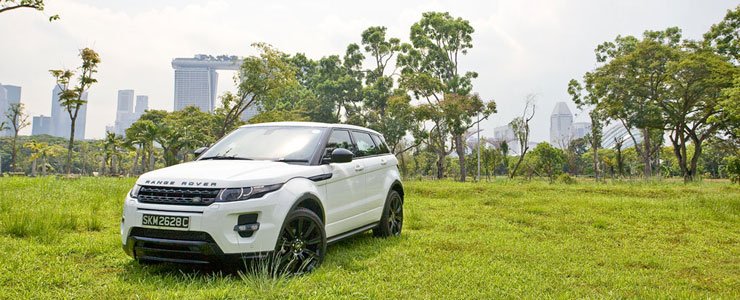 This car, apparently and arguably, is the first production car in Singapore to be equipped with a nine-speed ZF transmission. It's also the most fuel efficient and stunning-looking vehicle the Land Rover has created since the first batch of Evoque came to Singapore in 2011.
Like the
BMW X3
, the
Audi Q5
and the
Porsche Macan
, which will be arriving in the second quarter of this year, we have a feeling the evocative Evoque won't be experiencing any jungle bashing.
The Dynamic Black Pack variant that you see here costs S$309,999 (as at 8
th
May 2014) while the base Pure variant is some S$259,999 (as at 8
th
May 2014).
Unless you have a pocket full of cash and you do not give two hoots about how good-looking your car is, it could be heart wrenching to bring the Evoque out for a lug-and-tug in the jungle.
Up close and Personal
Locally, there are other coupe-like crossover and SUVs such as the
MINI Paceman
and the BMW X6. But unlike these two, the Evoque isn't awkward when it comes to looks. In fact, a car this handsome and suave doesn't easily bore your eyes even after you've spent some time with it.
Equipped with the bold Black Pack, our test car comes with everything black, including the font, bull-bar-style grille, 20-inch rims and the fog lamp surrounds. Even the headlamp cases are smoked out, giving the car a more fatal attraction than it already has.
Inside, the Evoque's cabin is sleek and well-arranged, with hints of ultra-luxurious trimmings. The front seats are spacious and comfortable, with a wide range of adjustment. The rear benches, on the other hand, are a bit tighter, but will still fit the kid and grandparents with ease.
This model is no longer being sold by local distributors
Engine Type
:
4-cylinders in-line 16-valves DOHC Turbocharged
Horsepower
:
177kW (237 bhp) / 5500 rpm
Torque
:
340 Nm / 1750 rpm
Transmission
:
9-speed (A)
Acceleration (0-100 km/h)
:
7.6sec
Fuel consumption
:
12.8km/L