Despite stiffer penalties being implemented, more PMD users were caught on roads compared to the same period last year. Here's what you need to know in a nutshell and why you should care.

The story:
Despite
stiffer penalties
being instituted for Personal Mobility Device (PMD) users who ride on the road, 38 people have
already been caught
flouting the regulation in the first weeks of they year, an increase number compared to the same period last year.
Key facts you must know:
1. Those caught riding on local roads now face a fine of $300 for the first offence, $500 for the second offence and $800 for subsequent offences. Those found riding on major roads face a $500 fine for first-time offenders, $800 for the second offence and $1,000 for subsequent offences. Those found riding on expressways will be charged in court.
2. 11 people were caught the morning that the new penalties came into effect. 38 PMD users have been nabbed riding on roads in the weeks since the new year began, up sharply from just 22 for the same period last year.
3. LTA will be rolling out a Safe Riding Programme from 1
st
February at places such as schools, community clubs and foreign worker dormitories. The 90-minute voluntary programme aims to help both cyclists and PMD riders better understand how to ride safely. It will include theory and practical components, and will be conducted on a training circuit.
Why you should care:

1. If you own and use a PMD, you should take note of the more severe punishments for riding on the road.

2. With these new penalties in place, it should come as no surprise that the police will be more diligent in catching people who flout the rules.


What you should do:


1. As a PMD user, do not ride on the roads. Instead, use the necessary pavements or bicycle paths.

2. When riding on pavements, do adhere to the 25km/h speed limit, and watch out for other pedestrians.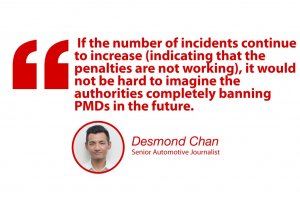 Editorial reaction:
Whether we like it or not, it appears that PMDs are here to stay. In Singapore, they offer a practical means of getting around, especially for the last-mile commute.
However, the authorities are rightfully trying to better outline the regulations for such devices, for the sake of the safety of both the users and other road users. It would be wise for PMD users to heed the guidelines laid out. If the number of incidents continue to increase (indicating that the penalties are not working), it would not be hard to imagine the authorities completely banning PMDs in the future. This would be to the detriment of the vast majority of rule-abiding users.
Related Categories
Recommended Merchants(View all)