Dear Car Owners,
Selling your car is not an easy job. Some of the questions you will have in mind include:
What is the most profitable way to sell my car?
If I sell to a car dealer, how do I know if he is offering me the best price for my car?
How do I handle all of the paperwork in the transaction?
Should I sell to a direct-end consumer instead?
Or is there a better way to sell my car?
Whether you are selling to a car dealer or direct-end consumer, there are pros and cons.
But you don't have to waste your time handling these issues, as sgCarMart Quotz will help you to fetch the best price for your car without any hassle!

sgCarMart Quotz is a bidding platform to help car owners get the highest price for their cars.
With over 600 used car dealers in Singapore, knowing which dealer to sell to is an art that can help you fetch a price difference of 5 to 15 percent.
To help owners who are looking to sell their cars maximise returns, sgCarMart Quotz offers a unique service that puts used cars up for bidding to used car dealers.
To date, more than 500 dealers are taking part in the bidding system.
sgCarMart Quotz is also the sole official vehicle auction platform for various goverment agencies, such as the National Environment Agency (NEA)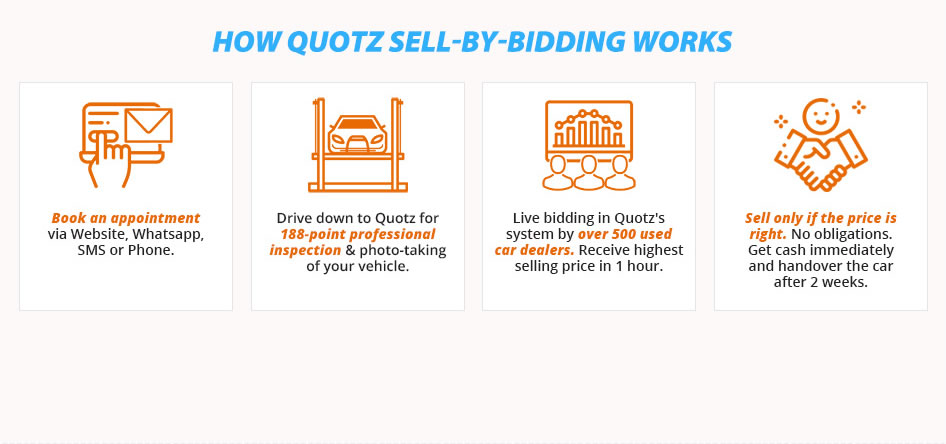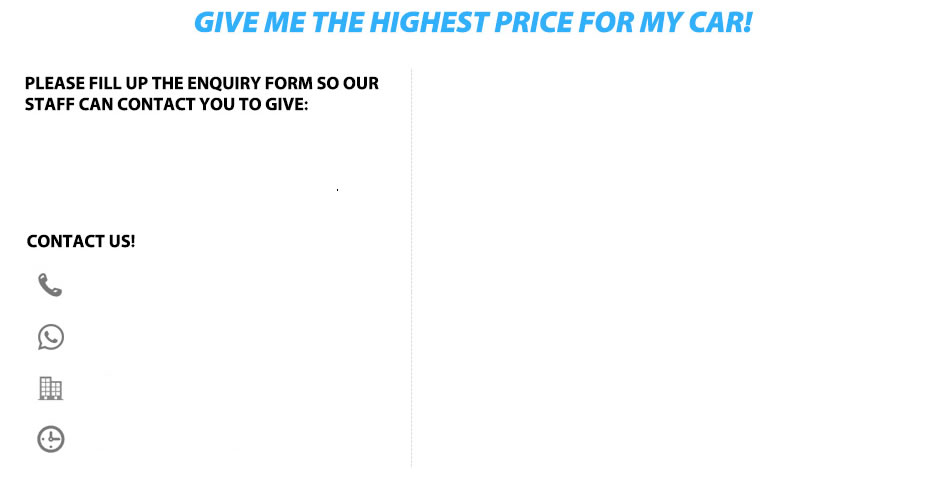 Please fill up the enquiry form so our staff can contact you to give:
- The highest price for your car
- FREE valuation
Note that the valuation price is not an offer to purchase.
6744 7571
9191 7571
61 Ubi Ave 2 #07-06
Automobile Megamart Singapore 408898
Daily from 10.30 am to 6.30 pm