---
A tour bus carrying a group of 25 Punggol residents was involved in a multi-vehicle accident in Malaysia, resulting in the death of one Singaporean woman.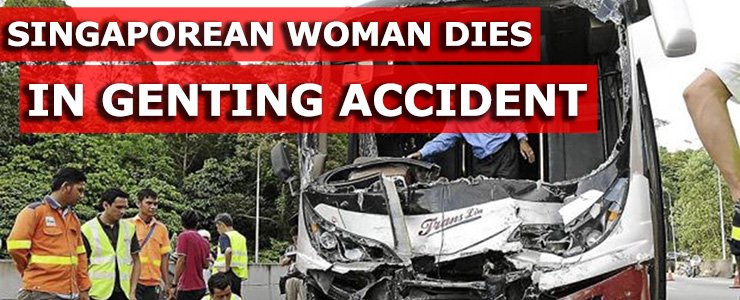 The Straits Times reported that a Singaporean woman has died from severe injuries following Wednesday's accident involving four vehicles on a highway that connects Kuala Lumpur to Pahang. The accident

took place at the 31.5km mark of the Karak Expressway, known for its winding roads and steep slopes, and involved a

tour bus with a group of Singaporeans on board, an express bus carrying 13 passengers, a trailer lorry and a car.

Madam Tham Choy Chan, 74, was among a group of 25 Punggol residents who were returning to Singapore from Genting Highlands in the tour bus when the accident happened. 16 of them were hurt.

Madam Tham was taken to Kuala Lumpur Hospital in a critical condition after sustaining head and other injuries. She died early yesterday morning and her family members took her body back to Singapore yesterday evening.

Retiree Mary Ku, 55, who had helped to organise the trip, said Madam Tham's husband, daughter and son-in-law were also in the tour group. Ms. Ku said that she was not taken to the same hospital that Madam Tham was, so she was not aware of her friend's death until yesterday afternoon.

Earlier, at Selayang Hospital on the outskirts of Kuala Lumpur, another accident victim, Ms. Ng Siew Hwa, 56, told The Straits Times that the tour members knew one another because they lived in Punggol. They joined the three-day, two-night trip to Genting Highlands to attend Hong Kong singer Frances Yip's concert.

It was the second accident involving Singaporean tourists in just over a month. On 31st July, a bus carrying 10 Singaporeans skidded and overturned in a pre-dawn accident near Pagoh, Johor. Eight of them and the two bus drivers were injured.