The Volkswagen Passat gets the turbocharged 2.0-litre motor found in the Variant, and a suave R-Line kit, which makes the brand's family sedan more desirable than it already is.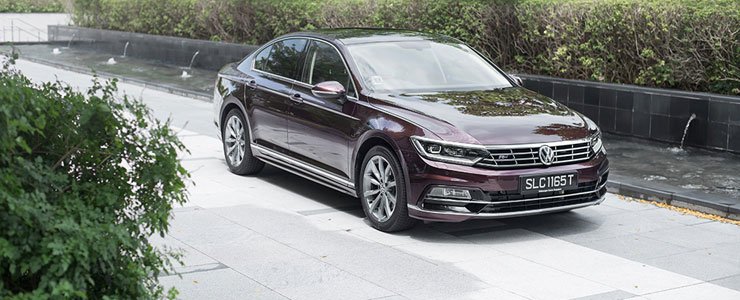 There are customarily two sorts of choices in life; get hitched or stay single, a Rolex or an Omega, a Harley or a Ducati, Trump or Clinton. But once in awhile, life cuts you some slack and eases your decision by presenting a best of two worlds. In the case of this writer's friend, it's a car buying decision.
Earlier this year, said friend wanted to purchase a large family sedan, which had a sporty R-Line bodykit and a turbocharged 2.0-litre motor. The only available option before, was the
Volkswagen Passat Variant 2.0 TSI DSG R-Line
. The sedan was sold in 1.8-litre Comfortline and
Highline
options back then.
Now, as many of us know, the wagon body style isn't most Singaporeans' cup of tea, unlike in Europe or Japan, despite them being practical and even looking quite stylish.
For local car buyers like said friend, who prefer the sedan but want more power, torque and a sexy R-Line kit, your prayers are now answered.
Up close and Personal
If you find that this car looks familiar, that's because aesthetically, everything from the sporty R-Line bumpers and front grille with R-Line logo to the chrome-plated trapezoid tail pipe trims, are the same as the Variant 2.0 TSI DSG R-Line's.
But despite the Variant appearing to be much larger, the two share the same 2,791mm wheelbase, 1,832mm width and 4,767mm length, meaning leg and shoulder room are equally spacious. The sedan however, sits lower at 1,456mm.
What's different other than the Variant's obviously larger boot (650 litres versus 586 litres), is the sedan's 18-inch rims, which in our opinion are a sportier-looking set than the Variant's 19-inchers.
Inside, we found the luxurious cabin to be a display of Volkswagen's four decade-long pursuit of perfection with the Passat.
From the moment you sit comfortably in the 14-way adjustable driver's throne to when your fingers grace the cabin's knobs and panels, there is a German level of ergonomical detail that's exemplary.
As expected, fit and finish of the interior is of quality and more importantly, the dashboard's inclined design is remarkably driver-oriented and user-friendly.
Sensuous presence and more power aside, the $22,000 more that you pay for the Passat 2.0 TSI R-Line compared to the Passat 1.8 TSI Highline also buys you the steering-mounted paddle shifters and Active Info Display cluster, which presents a handy variety of information, including driving, vehicular and navigation systems.

Engine Type
:
4-cylinder in-line 16-valve Turbocharged
Horsepower
:
162kW (217 bhp) / 6200 rpm
Torque
:
350 Nm / 4400 rpm
Transmission
:
6-speed (A) DSG
Acceleration (0-100 km/h)
:
6.7sec
Fuel consumption
:
15.6 km/L