---
Outshining all of its previous models, the Mk7 Volkswagen GTI is an impressively complete car, making it the only vehicle you'll ever need.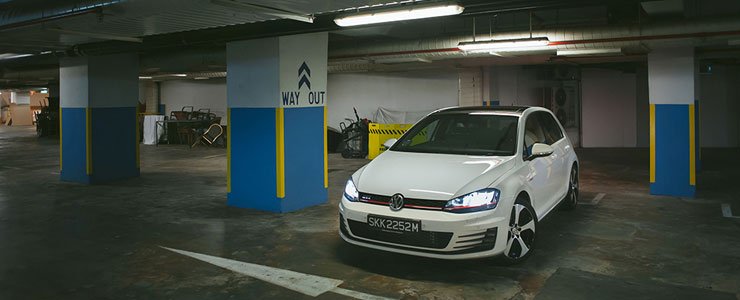 Created 37 years ago, the fast Golf is truly classless. Everyone wants one. From the lady who works at the bank to the university student who works part time at the pub, finding one who hates the Golf GTI is tougher than getting a distinction in, say, F math. But that's just me.
Who could have known that a mere project that started out some four decades ago would evolve into something of a cult today? The car will carry five people, get you from point to point in a manner no other hatches can and it sounds good. Very good.
Perhaps the idea of an ordinary Golf just isn't enough, although global sales figures prove otherwise. While eccentrically elegant and supremely competent in its segment, the Volkswagen Golf is still an ordinary hatchback compared to its very own hardcore brethren bearing the three magical alphabets.
Like the
Golf
and the
Audi A3 Sportback
, the seventh generation Golf GTI that you see here is based on the Volkswagen Group MQB platform. And the good news is that it's an absolute cracker.
Exterior
Despite some obvious changes to its sheet metal, the latest hot hatch is still instantly recognisable as a Golf GTI. Unlike the
Mercedes-Benz A-Class
, where the car underwent massive surgery, Volkswagen went for an evolutionary rather than revolutionary design.
That's not to say the car looks boring. The more angular front end with U-shaped LED daytime running lights add flair to the car, which help the hatch find a sweet balance between sporty and style.
Classic dimensions from the previous GTI are retained while the usual, albeit new, GTI trademarks such as a subtle body-coloured roof spoiler, GTI badging (which are now proudly displayed in red by the sides of the car), sports exhaust on each side of the rear valance and red calipers peering out of the 18-inch 'Austin' wheels.
In fact, on first glance, the car is even more obvious as a GTI than before, thanks to the car's signature red stripe that extends into the headlights and the black aerodynamic fins on either side of the massive front bumper.
Sitting tautly at 4,268mm x 1,799mm x 1,442mm (L x W x H), the car has grown in length and width but has shed off some numbers from its height, making it more antagonistic than before.
This model is no longer being sold by local distributors
Engine Type
:
4-cylinder in-line TSI
Horsepower
:
162kW (217 bhp) / 6200 rpm
Torque
:
350 Nm / 4400 rpm
Transmission
:
6-speed (A) DSG
Acceleration (0-100 km/h)
:
6.5sec
Fuel consumption
:
15.1 km/L