The Alfa Romeo Giulietta 1.8 Quadrifoglio Verde may lack motoring comforts but its performance and glorious exhaust note makes up for that.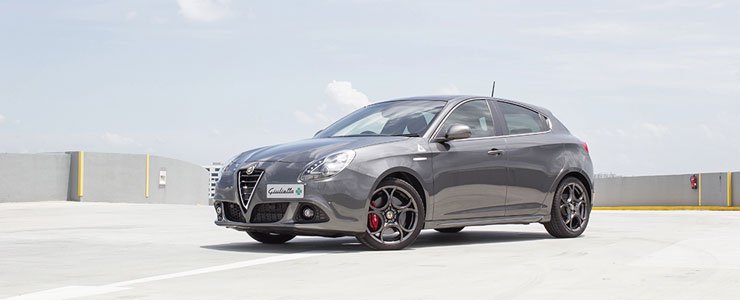 From Le Mans to Monza and Monaco; you name it, Mr. Romeo has won it. From the 1934 Alfa Romeo Tipo B to the
4C Coupe
, the Italian marque is famous for building some of the most beautiful, emotional and exciting cars mankind has ever laid his eyes on, but also infamous for not making them, um... completely put-together.
We got the chance to find this out when EuroAutomobile brought in the new Alfa Romeo Giulietta 1.8 Quadrifoglio Verde Turbo. Quadrifoglio Verde (QV) means Four Leaf Clover in Italian, signifies the car's more powerful performance capabilities, and pays homage to its racing past.
As artful a conception as Leonardo da Vinci's Mona Lisa
For those who aren't sure or have never heard of this car, and we're sure many haven't, think of the QV as Alfa's answer to German hot hatches, namely the
Volkswagen Golf GTI
. But the QV stands out for one reason alone - it's unreasonably beautiful.
That's because it's designed by a man named
Lorenzo Ramaciotti,
whose prior works of art include the Ferrari 360 Modena, the
F430
and the
Maserati GranTurismo
. It's not quite as delicately graceful a car as the 147 that it replaces, but has a more solid presence and stylish confidence.
And you won't find motoring creature comforts like a reverse camera, blind spot monitoring or a heads-up display but in our opinion, not having such distracting tech isn't bad. To some of us at least, it's surprisingly refreshing.
To the rest of the world, the car makes up for this by seating you in one of the most pleasant cabins today. The cabin's design and upholstery is neat, comfortable and undeniably stylish.

Performance to match its style
Acquired from the 4C, the car's turbocharged 1.8-litre makes an exciting 237bhp and 340Nm of torque through a dual-clutch gearbox.
When worked, the QV goes from 0-100km/h in 6.5 seconds. Driven hard, the QV rewards you by producing a very satisfying growl on top of gear change parps - a nice reminder you're in a hot hatch, which has got a bit of soul and character.
Unfortunately, there's not as much to excite over in terms of dynamics. Body control is great, suspension is nicely firm and it manages to go around a bend quickly and comfortably but just not as rewardingly as you'd expect. In this respect, the QV is just, strangely, quite regular.
Why am I pretending. I know I want one
The QV may not be as fun on twisty roads as we'd like but it's great in many ways because it just makes you feel special.
You won't be buying this car using your head; your heart has to want one. For everything else that's logical or practical, there are Prius taxis.
As the biblical motoring rule states - if you love cars, you have to love an Alfa.

Engine Type
:
4-cylinder in-line Turbocharged
Horsepower
:
177kW (237 bhp) / 5750 rpm
Transmission
:
6-speed (A) TCT
Acceleration (0-100 km/h)
:
6.6sec
Fuel consumption
:
14.2 km/L