---
The Opel Crossland X comes in a bite-size package with plenty of space and convenient features that make it a breeze to drive around the city.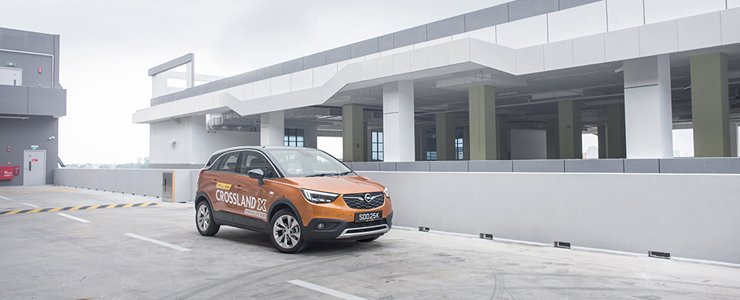 Opel already has one foot in the Sport Utility Vehicle (SUV) door, with the
Mokka X
that was launched here last year. This, is its baby brother - the Crossland X.
The 'Stop at Two' campaign doesn't apply to Opel, though. The German carmaker plans to complete its Triple Threat with the introduction of the largest sibling in its SUV family - the
Grandland X
- in Q2 2018.
Bite-size surprise
It may not look as 'rugged' as the Mokka, due to its less angular lines and slightly bulbous body, but underneath its cute exterior lies several hidden qualities that may surprise you.
Measuring in at a compact 4,212mm x 1,765mm x 1,605mm (L x W x H), compared to the Mokka X's 4,275mm x 1,781mm x 1,658mm, the Crossland X was born and bred for the city, and the occasional cross-border shopping trip.
This small footprint allows the Crossland to zip around town relatively effortlessly and take on the tightest of carparks without spiking your cortisol levels while a 520-litre boot ensures you have all the space you need to haul anything from a baby stroller to a weekend grocery haul at Tesco.
Made for the city
Beneath its innocent-looking exterior lies a 1.2-litre turbocharged three-cylinder engine, which puts out 109bhp and 205Nm of torque, taking the Crossland X from 0-100km/h in 11.8 seconds and on to a top speed of 187km/h.
That is by no means mind-blowing. However, the humble powerplant, which is mated to a six-speed automatic gearbox, provides enough punch to take the 1.2-tonne Crossland around town without too much fuss. It also places the crossover in Cat A of the
Certificate of Entitlement
band, which certainly helps with cost.
Speaking of which, the small powertrain and reduced weight should also help with running costs and fuel economy in the long term.
We managed an average of 12km/L during our short time with the car but we'd expect a better consumption figure on a driver with a lighter foot.
Besides its compact size, Opel has incorporated several nifty features that certainly help with city driving. These include a simple and easy-to-read Head-Up Display (HUD), which provides the driver with a minimalistic view of vital information at a glance without having to take their eyes off the road.
More noteworthy, though, is a 180-degree rear view camera, which provides a bird's eye view of the car's surroundings while reversing. This, of course, makes for a stress-free parking experience, especially in tighter spaces.
More than meets the eye
The Crossland X isn't a driver's car, and it doesn't pretend to be. Underneath its cute, endearing exterior lies a crossover that has more to offer than meets the eye.
It's a practical solution to the needs of city dwellers looking for a fuss-free, easy-to-drive car that offers plenty of space and storage for its compact size, as well as driver assistance systems such as Forward Collision Warning and Lane Departure Warning that keep its occupants safe.
It also offers decent fuel economy and technologies that make it a contender in the increasingly competitive crossover segment that has seen a steady rise in demand over the years.
Priced at $129,888 (as of 7
th
December 2017), the Opel Crossland X 1.2 Turbo Innovation is a bite-size surprise that shouldn't be dismissed just yet.

Engine Type
:
3-cylinder in-line 12-valve DOHC Turbocharged
Horsepower
:
81kW (109 bhp)
Transmission
:
6-speed (A)
Acceleration (0-100 km/h)
:
11.8sec
Fuel consumption
:
18.5 km/L