---
It may look a bit avant garde on the outside, but the facelifted Peugeot 2008 is all class and refinement on the inside.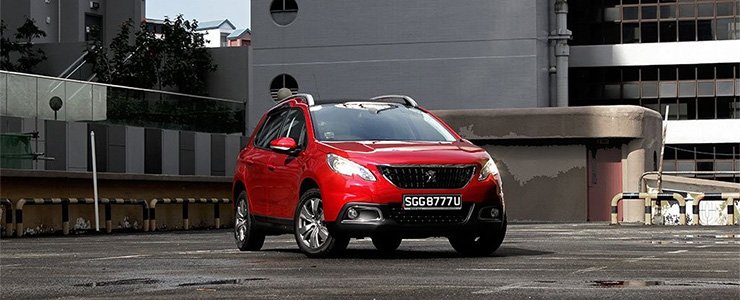 Fashion can take on many forms, especially when it comes to cars. Here's one of them, the compact crossover made by French automaker Peugeot. It goes up against the likes of the
Honda HR-V
, the
Nissan Qashqai
and the
Citroen C4 Cactus
in one of the market's fastest growing and trendiest segments.
The Peugeot 2008 is an affordable alternative in this trend, built to enable a small, fashionable young family to get a foothold in this growing market niche. It is based heavily on Peugeot's
208
mini hatchback but with more space and flexibility, a higher seating position and head-turning looks - without too much of a price premium.

A welcomed update
The Peugeot 2008's newly adopted turbocharged engine provides 110 horses and 205Nm of torque at 1,500rpm, allowing the $109,900 (as of 21
st
October 2016) Pug to finish the century sprint in just under 10 seconds. Interestingly, because of its taut chassis, this crossover handles akin to its smaller 208 hatchback sibling - smooth and settled on highways, with little trouble displayed when going over potholes and rough surfaces.
On the outside, a stylish facial expression courtesy of a restyled vertical front grille flanked by sleeker headlamps give the car a bit more streetside presence. The LED taillights are restyled, too, and features a 3D illuminated effect.
What's in a name?


Peugeot's 2008 is based on the 208, the brand's supermini hatchback. Instead of making a 208 SW, the estate version of the hatchback, Peugeot devised a crossover.
Therefore, the 2008 comes with all the advantages of the 208, and with more room inside, thus the added '0' in the name.
Being 30kg lighter than the
1.6-litre e-HDI variant
, the 2008 1.2-litre petrol version feels lively whether going over speed bumps or through an exciting corner.
To keep up with a growing dependence on upgraded infotainment systems, Peugeot has fitted its facelifted 2008 with the same 7.0-inch Mirror Screen touchscreen seen in the 208.
In vogue
If you're looking for a car to separate yourself from the crowd of young urban families driving similar hatchback-driving-meets-sport utility vehicle-practicality type vehicles, the 2008 makes the cut.
The facelifted 2008 has an up-to-date infotainment system as standard, a practical one lever operation that converts the back seats into one large storage area, low fuel consumption, and loads of quirky French charm - everything you're looking for in a refined and sensible compact crossover.
This model is no longer being sold by local distributors
Engine Type
:
3-cylinder in-line 12-valve DOHC Turbocharged
Horsepower
:
81kW (109 bhp) / 5500 rpm
Torque
:
205 Nm / 1500 rpm
Transmission
:
6-speed (A) EAT6
Acceleration (0-100 km/h)
:
9.9sec
Fuel consumption
:
20.8 km/L