Honda has released official photos of the all-new 2012 Civic, which will make its debut at the 2011 Frankfurt Motor Show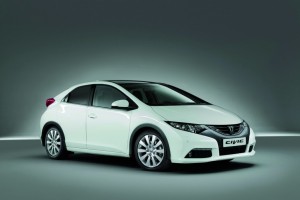 The new Civic hatchback sports a similar silhouette to the outgoing model, but Honda has updated the detailing to make the new Civic curvier than the previous model, which had many sharp creases and edges. According to Honda, its designers "wanted to keep the sporty and advanced elements of the car's character but tailor them to express the new model's even more elegant yet dynamic feel", while the company adds that sources of inspiration included a "blended wing body" aeroplane in which the fuselage and wings blend into a single body.
Inside, the similarity continues, with the double-layered dashboard combining both analogue and digital displays almost carried over from the outgoing Civic. Honda says it has improved interior quality as well as passenger space.
Honda claims that it has also improved the new Civic's suspension, with the heavily revised system said to improve the car's ride quality, comfort as well as handling and body control despite retaining the previous model's torsion beam set up.
Honda has not released details about available engines, but one powerplant that will be available is a 2.2-litre i-DTEC diesel engine that produces 150bhp, 10bhp more than the previous 2.2-litre CDTi diesel unit. The all-new Civic is set to enter production by the end of this year, and go on sale by early 2012.