Honda has pulled the wraps off the Civic Si Coupe HFP Package at the 2011 SEMA Show in Las Vegas, along with other Civic-based performance concepts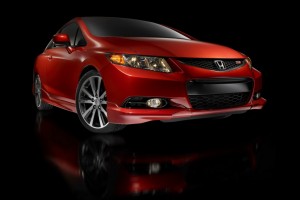 Honda brought along seven modified Civic coupe and sedan models to the 2011 SEMA Show in Las Vegas, including a limited edition Civic Si Coupe that has been given a Honda Factory Performance (HFP) tuning package.
"The Honda Civic was instrumental in the first import-tuner movement in the U.S. during the '80s," said Bruce Smith, vice president of Service and Technical Operations for American Honda. "The all-new Civic Si builds on that proud history by offering inspiring performance, improved fuel economy and a great platform for personalization."
The HFP package will be limited to just 500 units in the U.S. It includes high-performance springs that lower the Civic Si Coupe's ride height by 15 mm; high-performance dampers that promise to decrease body roll; 18-inch alloy wheels; a full HFP aerodynamic body kit; HFP carpet floor mats; red ambient interior illumination; and, HFP emblems.
The other Civic Si-based models displayed at Honda's SEMA Show booth include the Honda Performance Development (HPD) Compass360 Racing model, a stripped out Coupe body for those that want to build a race car and which retails for $3,500, plus three tuning concepts built by Bisimoto Engineering, Fox Marketing and Tjin Edition.