---
Volkswagen's third generation Touareg is a massive improvement over its predecessor and is well-armed to take on the big boys.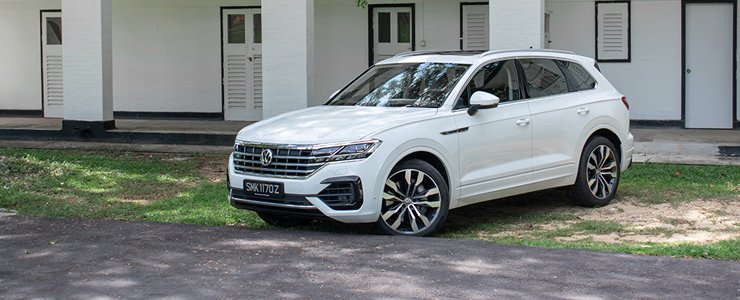 To say that the new third generation
Touareg
is a big improvement over the car it replaces is a bit of an understatement. More accurately, Volkswagen's latest flagship SUV has been gifted the goods to finally take the big boys head-on.
But how, exactly?
At its core is the expensive MLB Evo platform that also underpins Group giants such as the
Audi Q7
and
Q8
, the
Bentley Bentayga
, the
Lamborghini Urus
and the
Porsche Cayenne
.
Overall, it has grown 77mm longer and 44mm wider, yet is lighter (-106kg) than before. The biggest gain, however, is in terms of boot space, which swells to a commodious 810 litres - 113 more than its predecessor's 697 litres.
There's sexier skin to complement the increased proportions too. It boasts a much sharper design, which begins at the front with a massive chrome grille that integrates into the new IQ.Light LED matrix headlamps.
The LED treatment continues at the rear, which also now sees the model badging stretched across the boot, similar to what sister brand Skoda has done with its brand logo on the new
Scala
.
Joined by a more pronounced waistline, the new Touareg stands out from all angles with its sheer size and more authoritative sheet metal.
I see some fancy bits on the inside too!
The cabin of the Touareg also heralds a new digital architecture for the Volkswagen brand, the most prominent of which is the huge 15-inch infotainment display.
Its interface seems to be an adaptation of the system in Audi's latest models, with widgets you can customise to display pretty much whatever you like. The air-con controls are now also operated from within the touchscreen, clearing up the centre console of unnecessary buttons and knobs.
What's left there, then, is a new one-touch gear selector that is again, something seemingly remoulded from the Audi parts bin, and two dials for you to toggle between the various drive modes and ride heights.
Elsewhere, there are other bits that round off this range-topping Touareg's flagship status, such as the supersized panoramic sunroof, ambient lighting and ventilated front seats with massage function.
It seems Volkswagen has thrown just about everything but the kitchen sink to make the experience inside the new Touareg something quite special indeed.

But does it drive like something very premium?
Powering the porky two-tonne Touareg is a 3.0-litre turbocharged V6 (the only engine option available here) that makes 335bhp and 400Nm of torque.
Sent to all four wheels via an eight-speed automatic (not a dual-clutch), the powertrain enables it to go from 0-100km/h in 5.9 seconds, which puts it in between the
Golf GTI
and the
Golf R
territory where acceleration is concerned.
Its straight-line abilities definitely won't leave you wanting more, but it is still slightly plagued by turbo lag. That is, however, but a wee niggle to an otherwise brilliantly developed behemoth that is a master of disguise.
Thanks to clever tech like all-wheel steering, which is a standard feature for all Touaregs in Singapore, it manoeuvres with more agility and offers a better turning radius than you'd expect.
Coupled with an adaptive air suspension system that's only found on the R-Line variant, body control is excellent for something of this size. It's not a car that will take long to get accustomed to, even if it's your first time piloting something of this class.
There's also a ton of safety tech to ensure you don't become a roving hazard whether you're daydreaming or finding your way around tighter spaces. The suite includes front assist, emergency braking and lane assist, although the latter can get quite intrusive with its steering interventions.
The R-Line variant also comes with an added semi-autonomous traffic jam assist feature that combines the abovementioned lane assist with adaptive cruise control to make your life in jams a little less painful.
Should you want your Touareg to have all these goodies, plus front massage seats and air suspension (which can lower the car by 40mm), the R-Line variant costs $321,900 (as of 3 June 2019).
Some may think that's a bit much for a Volkswagen, but considering the stuff that's been put in it, it's still 50 grand lesser than an Audi Q7 if you do not require the latter's two extra seats.
Otherwise, there's also the lower-priced Atmosphere and Elegance variants, which begin at $289,900.
This model is no longer being sold by local distributors
Engine Type
:
6-cylinder in-line 24-valve Turbocharged
Horsepower
:
250kW (335 bhp) / 6400 rpm
Torque
:
450 Nm / 5300 rpm
Transmission
:
8-speed (A) Tiptronic
Acceleration (0-100 km/h)
:
5.9sec
Fuel consumption
:
11km/L