The Japanese MPV is fast becoming a 'must-have' accessory for someone living the Singapore dream. Just a few models commonly seen plying our local roads include Wishes, Estimas and Picnics (from Toyota) and the Odysseys, Streams and Airwaves from Honda.
Where then, does this new Mark X Zio stand, with today's wide array of modern family-oriented carriages?
Obviously, Toyota has not forgotten the other target markets (except maybe sports coupes) and we jumped at the opportunity to satisfy our curiosity with one of their "mixed offerings" - a luxury MPV/estate-wagon that houses seven.
When we first set eyes on our ride of the day, it hardly set pulses racing. With a name like Mark X Zio, one would expect it to be sculpted like the muscular and aggressive Mark X sedan. However with its unusual chrome front grille, elongated body and belta-like snout, we could not help but feel a little disappointed.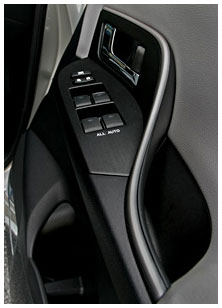 Not too long ago in a not so far-off land, the Lexus RX300/Toyota Harrier was considered the ultimate status symbol-SUV for the well heeled family. Many "towkays" (Chinese businessmen) and their "tai-tais" (socialite wives) had one. With its luxurious interior and lofty seating, the vehicle was soon associated with elitism and the bourgeois.
The rear LED tail lamps, curved wheel arches and the huge 'X' logo on its bonnet was the redeeming point of the overall design, and gave a classy, sporty touch to an otherwise uninspiring exterior. Our test drive unit came with optional HID headlights, which were useless in broad, sunny daylight anyway.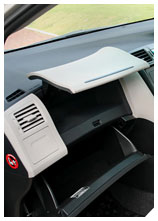 Comfort
Staring at the Toyota keyless entry system, a technologically klutzy driver, or more aptly put, yours truly, didn't know where the ignition keyslot was, because there was none! But of course, depressing the brake and pressing the 'engine start' button isn't rocket science. The gentle purr of the engine, followed by the lighting up of the Optitron meters, was a sight for sore eyes.
In the sweltering heat, the icy cool aircon was a treat. It was like experiencing an evening breeze during Perth's winter season, and soon, the interior climate felt like a Genting highlands trip. We started caressing the smooth velour fabric seats, which really feels like upholstery material used for luxurious furniture.
This model is no longer being sold by local distributors
Engine Type
:
4-cylinders in-line 16-valves DOHC
Horsepower
:
122kW (163 bhp) / 6000 rpm
Torque
:
222 Nm / 4000 rpm
Transmission
:
Super CVT-i (A)
Acceleration (0-100 km/h)
:
-
Fuel consumption
:
12.8 km/L