If you're looking to save some money during lunch, here's our round-the-island guide to some hotspots that offer free parking during lunchtime hours.
Everybody loves saving some money where we can, especially in Singapore where prices are going up all the time. So it's heartening to know that there are still places where you can go to if you don't feel like paying for parking during your all-important lunch hours.
There may be no such thing as a free lunch, but there is the next best thing, which is free parking at lunchtime, and here are some places, which charge you nothing for using their carparks during lunch. We've also included a handy reference to parking rates in the vicinity (where applicable) so that you know how much you're saving.
We've selected some of our favourite spots, grouped by geographical area, so that everyone is catered for, whether you're working in the industrial areas out in the west, or hanging around in town and the Central Business District (CBD) areas.
North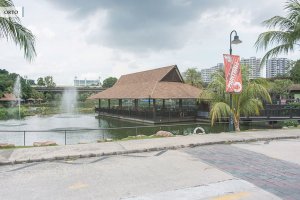 ORTO:
Unfortunately, there seems to be a dearth of lunch spots with free lunchtime parking for those in the northern areas of Woodlands, Sembawang and Yishun.
One place you can consider though is ORTO, a 24-hour lifestyle spot near Yishun and Khatib. Formerly known as Bottle Tree Park, this quirky little hideaway features several different dining outlets to ensure that you're spoilt for choice when it comes to food.
If you do have an extended lunch break though, you can even indulge in some fun activities like fishing, prawning or trampolining, as there are various facilities around the premises to cater to the sporting types. And of course, parking here is entirely free of charge.
West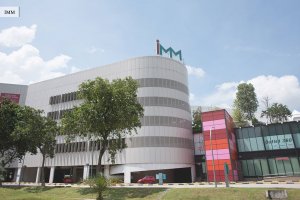 IMM:
There's no shortage of shopping malls in the Jurong East area, but IMM stands out not just for its numerous outlet malls where you can pick up branded goods at a discount, but also because of its low parking charges.
Visitors pay nothing for the first two hours of parking, but if you decide to stay past two hours, you'll be charged $1.07 for the next hour, and $0.30 for every subsequent 15 minutes thereafter.
For comparison, nearby JEM charges $1.39 for the first hour, and $0.54 for every subsequent 15 minutes of parking. Do note that the free parking rates at IMM applies only on weekdays (excluding public holidays), and strictly for the first entry of the day, so you cannot drive out every two hours and back in again for 'unlimited' free parking.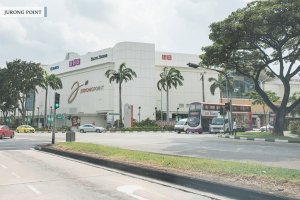 Jurong Point:
For those working in the industrial areas out in the far West like Tuas, there is no need to worry, as there is at least one mall in the area that offers free parking during lunchtime. From 12:00pm to 2:00pm, you can park at Jurong Point free of charge, although this is only valid from Mondays to Thursdays, excluding public holidays.
Parking is otherwise chargeable at $1.07 for the first two hours and another $1.07 for any subsequent hour thereafter or part thereof outside of those time periods. There is no shortage of food choices at Jurong Point, including fast food favourites like 4Fingers and Carl's Jr, among many others.
And if you're feeling particularly indulgent, there is even a Japanese food street located in the basement of the mall, with numerous Japanese dining outlets including Kuriya Japanese Market, Ichiban Boshi and Gokuku Japanese Bakery.
Central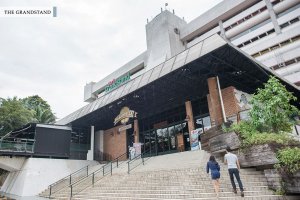 The Grandstand:
Formerly known as Turf City, this lifestyle destination in Bukit Timah offers free parking throughout its sprawling grounds. If you make the effort to trudge to the Eng Neo area where it is located, you'll find a number of interesting lunch spots, including Omakase Burger and PasarBella, as well as a Giant supermarket for all your grocery shopping needs.
There are also a few sporting facilities around the area where you can work off that heavy lunch, including The Premier Pitch for a spot of football, and The Karting Arena if you fancy a bit of go-kart action.
There's even a used car mall with a large collection of car dealers at The Grandstand, if you decide you want to go car shopping during your lunch hour.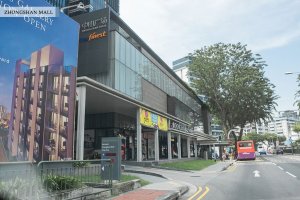 Zhongshan Mall:
This quiet little mall in the Balestier area is a hidden gem that's been open since 2013, but gets little attention due to its relatively obscure location. Nevertheless, it is still a place worth checking out, as it is a stone's throw away from a number of well-known eateries.
Parking here at lunch time is free from 12:00pm to 2:00pm on weekdays, but is otherwise chargeable at $1.60 for the first hour and $0.80 for every subsequent half hour or part thereof at other times.
Within the mall itself there are a couple of nice food outlets to check out, like The Burger Bar, and Pistachio Middle Eastern Mediterranean Grill, but the mall is also fairly close to several famous local delights, such as Founder Bak Kut Teh, Boon Tiong Kee Chicken Rice, and the Balestier Market Food Centre, home to several stalls from the former Longhouse coffeeshop at Upper Thomson.
East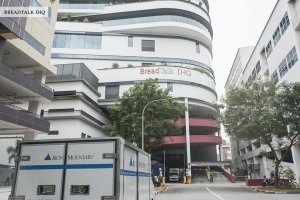 Breadtalk IHQ:
The international headquarters of local bakery chain Breadtalk is not only home to their offices, but also the entire collection of the Breadtalk group's food establishments, including Din Tai Fung and RamenPlay, as well as Meats and Malts, a chic bar and diner on the first floor.
Parking here is free for the first hour, and then $1.50 per hour for the next two hours, followed by $3.50 per hour subsequently until 5:00pm.
The Tai Seng area where this building is located is also home to a variety of local eateries, most notably at 18 Tai Seng just next door, which houses no less than three Michelin-starred food outlets in the form of Tim Ho Wan, Liao Fan Hawker Chan soya sauce chicken, and Tsuta Japanese ramen. There are also plenty of food places at nearby buildings like Centro Bianco and The Commerze.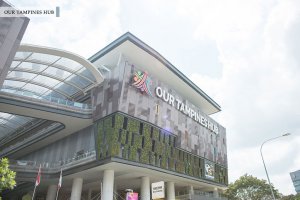 Our Tampines Hub:
This recently-opened community and lifestyle integrated hub sits on the former grounds of the Tampines Stadium and Tampines Sports Hall, and is a one-stop location that houses numerous public service offices including the Housing and Development Board, the People's Association, and ActiveSG, among others.
There is also a variety of sports facilities, a community library, as well as a hawker centre and several retail shops and dining outlets within the facility.
Parking here is free from 12:00pm to 2:00pm on weekdays (excluding public holidays and eve of public holidays), and $0.60 per half hour subsequently. The hub is also within walking distance from Tampines Central and the trio of Tampines malls, the most expensive of which (Tampines Mall) charges $1.28 for the first hour and $0.43 for every subsequent 15 minutes thereafter.
Town and CBD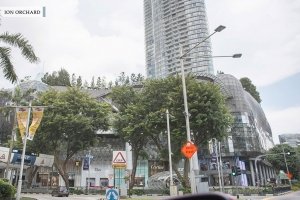 ION Orchard:
From 17
th
March to 29
th
October this year, ION Orchard is offering complimentary parking from 12:00pm to 1:00pm on Mondays to Thursdays, excluding public holidays. It is definitely a good deal as you would otherwise be paying $2.67 for the first hour of parking at ION, and $1.28 for every half hour subsequently or part thereof.
There are plenty of food options at ION Orchard itself of course, but you can also take a short walk to the many other Orchard Road malls in the vicinity for some delectable eats in the heart of the shopping district.
For comparison, parking rates at nearby Ngee Ann City costs $1.82 per half hour during the lunch time period of 12:00pm to 2:00pm.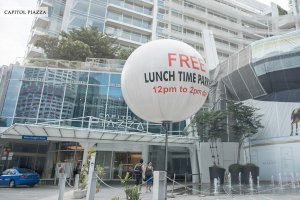 Capitol Piazza:
Another lesser known spot in the heart of town, Capitol Piazza is one of the newer malls that have opened up recently, and in order to attract patrons during the lunchtime hour, it is offering free parking between 12:00pm to 2:00pm daily, which is an extremely good deal considering its location within the city area.
There is no minimum spend required, too, and all you have to do is to enter and exit the carpark within those timings. Parking rates otherwise are chargeable at $2 for the first hour, and $0.40 every 15 minutes thereafter.
There is no shortage of food choices at Capitol Piazza, and among the food outlets worth checking out there include Naughty Nuri's for Indonesian-style ribs, Teuscher Chocolates for delightful chocolate milkshakes, and Kaiserhaus, which serves up authentic Austrian cuisine.