When the Golf GT was introduced, it caused a bit of a stir in the driving community. It came with a revolutionary type of engine - one that was supercharged and turbocharged. Though it was no Lancia Delta S4 (and it wasn't meant to be), it still had enough kick to show other makes with up to 2.5 litres of capacity who's boss.
It had a rather small block at the front, 1.4-litres only. But being "twincharged", as the boys from Wolfsburg call it, it puts out 170 hp and 240 Nm of torque - easily matching closely the figures from a 2.4-litre Fiat Stilo Abarth.
It would make out-accelerating the larger rivals like the Stilo look effortless and then, adding salt to the wound, humiliated them further when fuel consumption figures were compared and one more time when both owners were side-by-side at the queue to pay for their road tax.
The first batch of the GTs were sold out very quickly and it looked like the car to own on our roads, given its powerful output, good looks and cheaper-to-maintain advantages. One bit of it scored a little lower than the others, though. It was a hatchback and that meant that it had a small boot.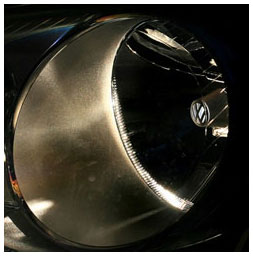 Paying less for more
Now, there's a new Volkswagen based on the Golf - the Jetta. And guess what? It's got the same 1.4-litre madhouse in it.
A good number of people never took to the hatch because it didn't have a proper boot. However, this new Jetta is essentially the Golf GT with one. But does that immediately imply that it is even better than the latter?
Well, first off, the GT has cool bits like paddle-shifters and a boost gauge while the Jetta doesn't. And also, unlike the larger of the two, it has the 17-inch rims.
On the other hand, the Jetta twists with 240 Nm worth of torque at 1,500 rpm - 250 rpm earlier than the GT. And that translates into requiring lesser right foot input, better fuel economy and tractability in city traffic.
But here's something important - don't think of it as a cheaper, more practical Golf GT. It isn't.
What it is, actually, is an alternative to stuff like the BMW 320i, because you still get impressive levels of luxury for the price; and to top it off, it's even more powerful than the Beemer.
This model is no longer being sold by local distributors
Engine Type
:
4-cylinders in-line 16-valves DOHC Turbocharged Supercharged
Horsepower
:
119kW (160 bhp) / 6000 rpm
Torque
:
240 Nm / 4750 rpm
Transmission
:
7-speed (A) DSG
Acceleration (0-100 km/h)
:
8.5sec
Fuel consumption
:
15.1 km/L
This model is no longer being sold by local distributors
Engine Type
:
6-cylinder in-line
Horsepower
:
142kW (191 bhp) / 5900 rpm
Torque
:
230 Nm / 3250 rpm
Transmission
:
6-speed (A)
Acceleration (0-100 km/h)
:
8.7sec
Fuel consumption
:
11.3 km/L