---
Two sexy coupes, one ultimate showdown. Who will come out tops in this battle of the turbocharged two-door style icons? We find out.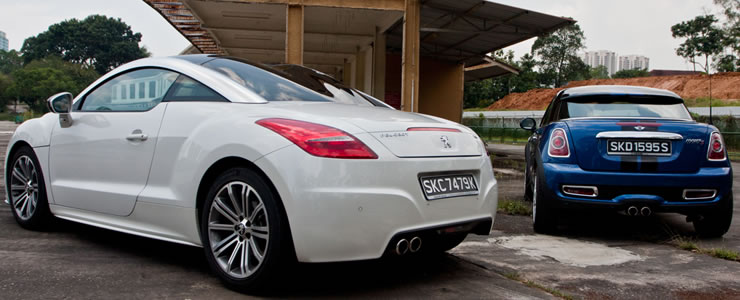 That's not to say that the RCZ is slow. While it is down on power from the Coupe, producing just 156bhp from the same 1.6-litre turbocharged engine, the car is able to keep up well for the most part, with most of the power coming through at the top end. There is a slight lag upon acceleration, but once the turbo spools in, the RCZ becomes a smooth cruiser, capable of tackling long distances in style and grace.

The MINI delivers its performance in a different way however, with the car feeling more like an excitable little puppy, always ready and willing to point and go in whatever direction the driver orders it to. Its steering is a delight with its directness, communicating exactly what the car is doing on the road.

The RCZ though, is more muted. While it mostly handles well, feeling fairly nimble and controlled in the bends, it doesn't have the same excitement as the MINI. Its steering is slightly heavier, and there is the sense that the RCZ has been tuned more for comfort than outright agility.

And comfort is where the Peugeot shines, with its well-damped ride soaking up road undulations excellently. It feels a tad unsettled over extremely hard bumps, but it still outshines the MINI, whose suspension does feel a bit more performance-biased.
Conclusion
While both the MINI Coupe and Peugeot RCZ are stylish and chic two-door cars with similar 1.6-litre turbocharged engines, their driving characters could not be more different.
The Coupe continues the MINI tradition of outright fun drivability, with its superb driving dynamics never failing to elicit a smile on the driver's face each and every time he hits a winding piece of road.
The RCZ, meanwhile, packs a supremely refined package into a jaw-droppingly beautiful body. And in terms of looks alone, the Pug has the MINI beaten for sexiness.
Choosing which one is a matter of style or substance. For the driving enthusiast, the MINI Coupe is definitely the one to go for. The RCZ though is the ideal style icon for a night out on the town. But either car is unlikely to disappoint for the modern male looking for a good-looking two-door chick magnet.
This model is no longer being sold by local distributors
Engine Type
:
4-cylinders 16-valves DOHC Twin-Scroll Turbocharged
Horsepower
:
116kW (156 bhp) / 6000 rpm
Torque
:
240 Nm / 4000 rpm
Transmission
:
6-speed (A) Tiptronic
Acceleration (0-100 km/h)
:
9sec
Fuel consumption
:
13.6 km/L
This model is no longer being sold by local distributors
Engine Type
:
4-cylinders in-line 16-valves Turbocharged
Horsepower
:
137kW (184 bhp) / 5500 rpm
Torque
:
240 Nm / 5000 rpm
Transmission
:
6-speed (A)
Acceleration (0-100 km/h)
:
7.1sec
Fuel consumption
:
14.9 km/L